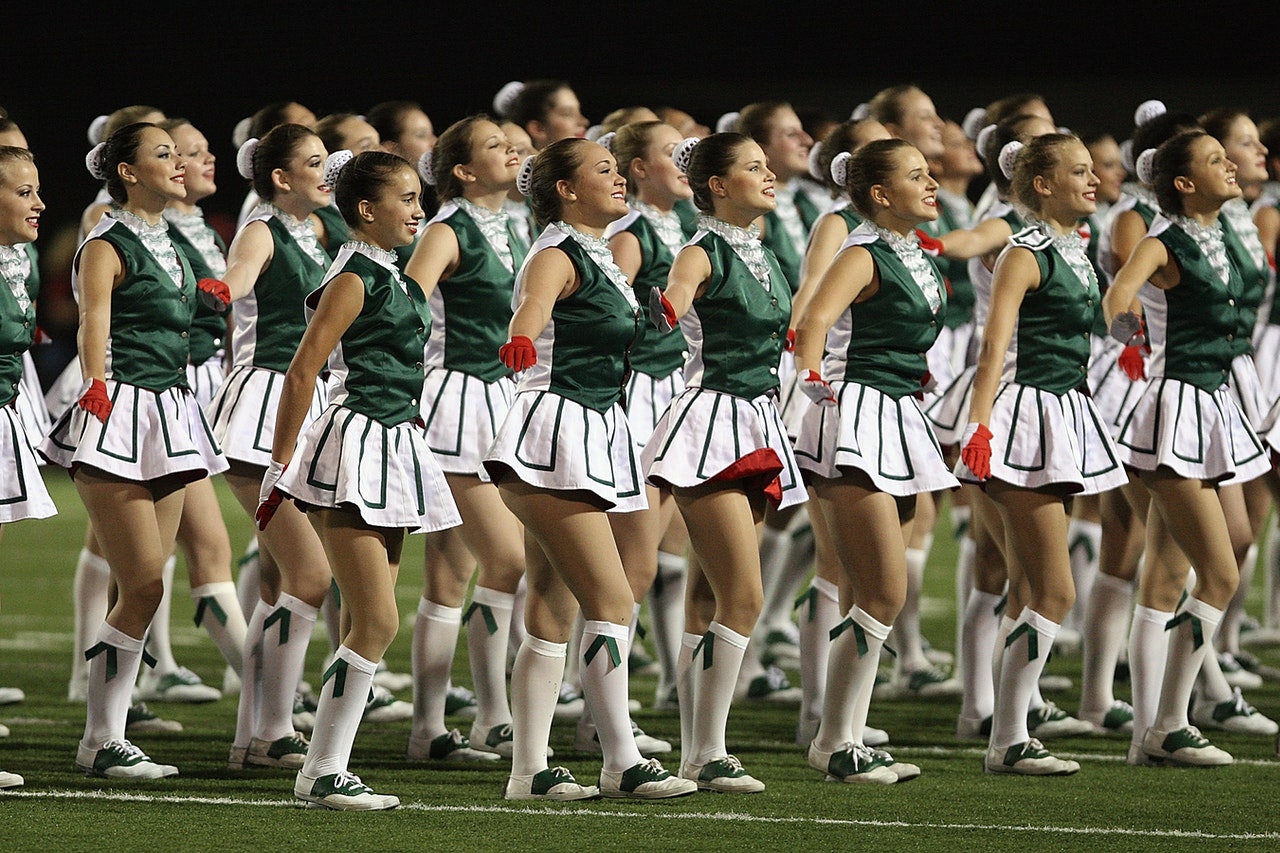 From school tryouts to the NFL games, a cheerleading uniform saw the most wins and losses. Since you started cheerleading, your uniform served as your dependable athletic companion.
It is an essential part of you as a cheerleader. It does not only represent you as a dancer but also the spirit of sportsmanship and camaraderie. Cheerleading uniforms distinguish you from your competitors. It gives you a collective identity similar to your teammates. The feeling of belongingness happens when you wear your cheer uniform.
With this piece of garment, you wear the team's official colours and logo. It makes you feel a sense of pride every time you represent your team and wear a cheerleading uniform. It is what you are as an athlete and a member of a team.
However, as you progress as a cheerleader, you outgrow some of your uniforms. Most of your old uniforms take up space in your closet where you never bother to wear them again.
For how long are your uniforms going to be kept inside the little corner of your cabinet? After you have outgrown the garments, what else can you do about them?
Well, old cheerleading uniforms are highly versatile. You have plenty of things to do with your uniform. They can be customized and used as a material for decorative items at home.
So, read on as we give you unique ideas on what else you can do with your cheerleading uniforms.
What are the parts of a cheer uniform?
The uniform is every cheerleader's pride and joy. It is composed of different parts with specific functions. From head to the top, a cheerleader would not miss wearing every piece during tryouts or routines. A cheerleading uniform must have a bodysuit, shell vest, and skirt. Ribbons and socks also completed the whole piece.
Ribbons & bows

Ribbons and bows are the most common accessories you have aside from pom-poms. Cheerleaders' hair is always kept in a ponytail, and it is a general rule one should not break. It provides other members with better visibility during a routine. The ribbons and bows, which usually use the team's theme and colour, adorn the dancers' hair. They make your hair more stylish and kept.

Bodysuit

The bodysuit is a piece of undergarment you wear during competitions. It has the same colour as your outer covering and vest. Bodysuits are usually long-sleeved tops that can be snapped at the bottom to suit the frame. This piece of the garment helps make a uniform and standard look in most hands motions.

Shell

The shell or vest is the outer covering worn by cheerleaders. It is usually made from polyester and cotton to provide airflow in the garment. The shell and vest are essential parts of the uniform because it showcases the team's design. It is styled with the team's colours and logos or even school insignias.

Most of the shells are sleeveless and with a V-cut neckline. It must have a zipper closure on the back or the side to make dressing convenient. The shells are made of highly stretchy material to hug and fit the body frame well. The cloth can expand to suit the frame perfectly. You can wear the shell with a bra or a camisole for better protection.

Full shell

Another part of a cheerleading uniform is the entire shell. It is sleeveless with a straightforward design that ends above the skirt line. It is used as a top using a bra as an undergarment. The whole shell has a modest and decent design that is usually worn by most school squads. You can also wear the entire shell without a vest leaving your arms and shoulder out of covering. This clothing is also stretchable and expandable with enough opening for arms. It must have the correct length to meet the top of the skirt, looking at both garments as an overall.

Midriff

The all-star-squads usually use midriff or crop top. It can be revealing which most high school squads do not prefer wearing. Croptop usually is worn with a bra. It is shorter than that entire shell that usually ends after the bra line. A crop top is strict prohibited among high school cheerleading squads.

Skirt

The bottom part of the uniform is the skirt. It has the same design as the top, with similar colours and stripes. Some skirts have pleats while others do not have. Depending on the squad preference, you can choose the style for the skirt. Skirts usually have mid-thigh length but, you can customize it, as well. You can see skirts in various rises, even the low-rise skirts. As an undergarment, bundies are always worn with the skirt.
Do you get to keep your old cheer uniform?
Yes, you can get to keep your old cheerleading uniforms. However, if you have already outgrown them, taking too much space in your closet, you can find some things to do out of them. With simple customization, you can transform your cheer uniform into a quilt, covers, etc.
Here are some of the great ideas you can use with your uniforms:
Quilts

One of the most exciting things you can do with an old cheerleading uniform is making quilts. Quilts are generally made by cutting out the logos into square or rectangular cuts. Then, you can stitch them together to make a quilt. You can use the bodysuit, vest, skirt when creating a quilt out of the uniform. After you finished the product, you will find it colourful and creative. You get to save the school logo by making it a quilt.

Pillow covers

If you search for a practical and creative way to make out of your uniforms, you can choose pillow covers. You can create a colourful and decorative cover that will look like a quilt. It is okay to cut a portion of the uniform with a logo on it for instant design. Just prepare your sewing machine, scissors and thread for this artful project. You can put the pillow in your living room, or even in the bedroom, as feel the cheerleading spirit.

Tote bags

Another smart thing to do with your uniform is turning them into tote bags. You can use a sweatshirt or a vest for this project. Just cut out your team's logo, design the tote bag outline, then sew them all together. After that, find a sturdy and lengthy material to use as the tote bag handle.

Remake costumes

Cheerleading uniforms are good to use Halloween costumes. If you want to go back as your old cheerleader self, take advantage of using it during special occasions. Even the top or vest can use as a casual garment. You can make it simpler and alter some designs for a new and refined look.

Uniform pillowcase

Without requiring you to sew, a cheer uniform is perfect to use as a pillowcase. You can have it in your bedroom and stuff it with a pleasant and comfortable pillow. Just remember to wash it to remove unnecessary odor due to a prolonged period of being tucked in the dresser. The stretchable fabric can fit well in your bedroom pillow.

Coin purse

If you are looking for ways to make a coin purse, using your uniform is a great opportunity. The fabric used in making a uniform is durable and robust enough to create a coin purse. You can choose to cut the area with colours and stripes for instant style and design. Remember to put an enclosure or zipper to keep your coins safe.

Textile recycling

If you want to discharge your old uniform, you can opt for textile recycling. There are available companies that accept old clothes, which they recycle and customize. You can send them to these companies for them to recycle your stuff.

Rugs

Of course, any form of clothing can be made into a rug. In this way, you are more economical without having to buy a new one. If you want to make it more stylish, you can cut patches, create a pleasant design, and sew them together. The fabric in your uniform is thick enough and suitable for repurposing. Your old garments can add more personality to your home. It is also a perfect way to entertain yourself while sewing old pieces together.

Stuffed animal

Who would have thought that you can make a stuffed toy out of your uniform? Well, it is possible, as your garments are great for making stuffed animals. Since your old cheer uniform has sentimental value for you, it is okay to use it for making a new toy. You can cut them into small pieces, stuff them inside a teddy bear, and make it like a new one. In this way, you can still keep the old pieces with you while re-creating your old toy.

Stitched t-shirts blanket

Of course, your uniform holds real sentimental value for you. If you have plenty of them, you can make a stitched t-shirts blanket. You can keep your uniforms alive by putting them together and making a colourful blanket.

Socks air freshener

Even your old cheerleading socks can be repurposed. You can re-create your old socks as air fresheners in your car or room. The fastest way is to fill them up with the scents that you want. You can use vanilla or cinnamon for this project. After you stuffed the socks with enough scents, keep them tight, and stitch the sock together.

Stylish headbands

Of course, your old top will work wonders if you recreate it as a headband or a scarf. You can choose an area of your old uniform with design and cut it into smaller pieces. Remember to test fit it on your head to perfectly serve its purpose. A cheerleading headscarf will make you look sporty and be a cute casual accessory.

Cozy Knitted Mugs

If you like something unique and more personal, you can also use the old fabric to make cozy knitted mugs. It is a great way to greet you in the morning while sipping through your favourite mug. Uniform tops are typically thick with layers and layers of durable fabric. It can make an excellent sleeve for your coffee mug and protect you from getting burnt. Just stitch a small piece together enough to surround your mug.

Of course, it is hard to part ways with something of value and sentimental to you. Your cheerleading uniform witnessed your triumphs and sacrifices as a cheerleader. It has been the best companion during your time as a dancer.

Thus, it is of great importance that you recreate them to something functional, as well. The list we mentioned has some great ideas to repurpose your old uniform. Each project is simple and uncomplicated without taking much of your time.