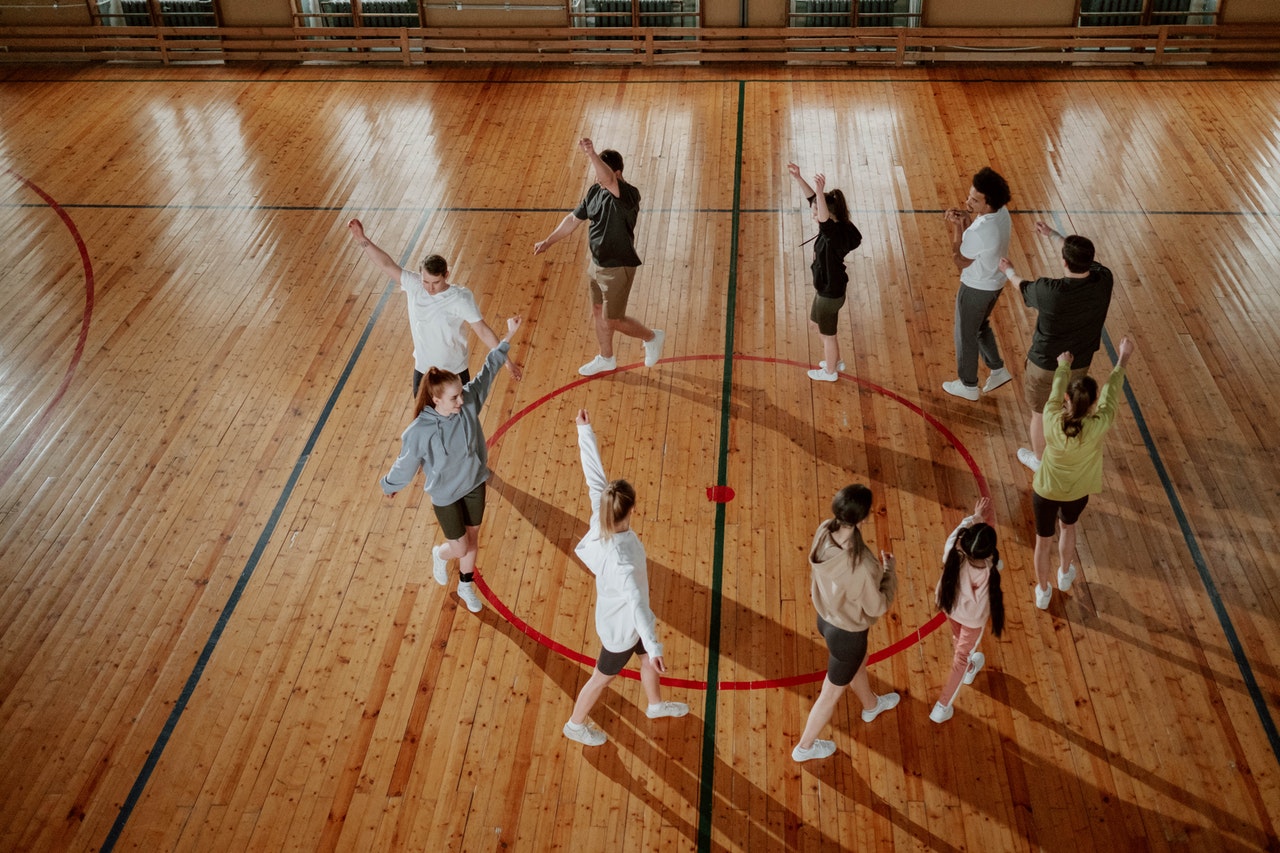 For most girls, becoming a cheerleader is the ultimate high school dream. It is more than bouncing up and down and waving your pom-poms at a cheering crowd. Cheerleading is about self-discovery, building self-esteem, and camaraderie while having fun.
It is an interesting sport to learn because it offers endless benefits to an individual. So, a lot of aspiring young girls out there would want to have a shot in cheerleading. The joy you get in this sport is insurmountable. Doing tumbling, flipping, stunts, and dance let you be creative and confident at the same time.
However, some girls lack the confidence to do a tryout to be part of a cheerleading team. They believe that they do not have what it takes to be a good cheerleader. But, to tell you frankly, it is often a misconception. Cheerleader is for everyone. It is a sport you can learn and develop over time.
There are ways in which you can learn to become a cheerleader even without experience. As a beginner, you must understand the basic moves in cheerleading and learn them one by one. Without experience, you can start with fundamental moves like cheers, jumps, and tumbling.
With these foundational moves, you can develop your technique to become an expert. You now have the confidence to make stunts and formations in the future.
Can you do cheerleading with no experience?
Yes, you can do cheerleading with no experience. Most experts started from scratch. It would help if you learned the basic moves before leveling up. These are the fundamental motions that you can carry as you advance in cheerleading.
Here are the things you should master when you engage in this sport:
Ready position

Based on the competitions you watched, the ready position is the most basic move. It is a power move that initiates the whole routine. To do this, your feet must be shoulder-width apart, and your hands are in fists resting. Then, your elbows are stretched out to the sides and must not be pointed to the front.

Handclasp

Handclasp is also a fundamental move in cheerleading. It looks like that you are clapping, but you are just clasping your hands altogether. Handclasp is a simple movement that creates a sharp and confident look to the routine. It encourages the audience to focus their attention on the activity.

T-motion

T-motion is a simple and easy step. Your arms are all straight out to both sides while at shoulder height. It is critical to pay attention to the position of your fingers in T-motion, too. Your thumb must face forward while the pink is pointed to the back. The rest of your hands are in a tight fist position. Then, your feet are together, depending on the routine.

Broken T

Doing the broken T position is very straightforward. You have to raise both of your arms while your fists are on your chest. Your thumbs must be pointed backward as close to your body as possible. The pinky finger, on the other side, is fronted front and faced out. Always keep your elbows raised and avoid dropping them.

Touchdown

Touchdown is an intermediate move in cheerleading. It is essential to make your arms straight and keep them close to your face to do this step. The position of your hands is on resting fist while the pinky fingers are pointing forward. While doing the touchdown must also be kept together.

V-motion

V-motion is direct but has a lasting impact. You can either make high V or low V depending on your routine. To do this, your arms are all straight up while away from the head around 45 degrees. The arms should be the same width apart from your legs. The thumbs must also be faced forward while on the V-motion. For low V, you can reverse the motion while keeping the 45 degrees distance.

Right and Left Punch

The right and left punch is also a powerful and intricate move. It would be best to execute an alternating motion of one hand on the hip while the other is punching upward. For the right punch, your left hand must be on the hip, and the elbow is straightened out to one side. Your other hand should be kept straight just near your ear. Make the motion when making the left punch. Repeat the movements as necessary.
How do you become a beginner cheerleader?
Now that you learn the basic moves, you need to know all the critical concepts of cheerleading. To be a beginner cheerleader, it is crucial to learn cheer motions, the lingo, train, and practice.
Cheer motions

The basic motions of this sport lie in the arms, hips, and legs movements. You have developed strong arms to execute the routine. Your arms must have enough strength and energy so they can carry out steps seamlessly. Then, it is also essential to develop your technique and style so that you can execute routines well.

For excellent execution, you have to know the 5Ps of arm motion technique. It includes punch, power, pathway, position, and posture. These should be present in every arm movement you conduct.

Know the lingo

Commands guide cheerleading. You have to learn and understand the lingo to be able to follow instructions right. There are specific facial movements, as well. You have to speak cheer when executing every routine.

Always train and practice

It takes hard work, time, and perseverance to be excellent in anything that you do. It goes the same way in cheerleading. For you to become the best among the rest, always prioritize your training and practice. Each step for any routine is crucial to your progress. You also have to develop balance, flexibility, speed, rhythm, and stamina in the sport.

Start your first cheer dance routine

After you have mastery of all the fundamental movements, it is now time to create your routine. Combine and mix up all the basic movements, follow a certain rhythm, put in your style and technique, as well. Then, you can put yourself to extensive practice to finally perfect everything. You have to allot time and energy to get things right. Perseverance and hard work are crucial to making every routine interesting.

Be prepared for tryouts

The moment you perfected your routine, you are now more confident of signing up for tryouts. Check for available tryouts where you can showcase your skill and be part of a team. Here are some areas you should consider when doing your tryouts.
Sideline – it is a group that supports different sports teams in major competitions. When you start you try out, you should include stunts and rumblings in the routine.
Varsity cheerleading – is the most common type. High schools and colleges have corresponding varsity cheerleading that competes. Most cheerleaders start from here.
All-star cheerleading – it is one of the elite ones. There are training facilities that hone the skills of cheerleaders to compete. You can see them in significant cheerleading events aiming to win.
Professional Cheerleading – experts, are in this genre. They usually support professional sports teams like the NFL and NBA. Some use poms and involve creating stunts and tumblings.
How can I learn cheerleading fast?
You can learn cheerleading fast if you prepare yourself well. Meaning, you already build endurance, strength, coordination, flexibility before engaging in the sport. You can learn the sport fast if your body is in good condition, as well.
Here are the things that you should build to be able to become a cheerleader:
Physical endurance

In cheerleading, building your endurance is very important. It will allow you to move and make routines for an extended period. It is a great cardio workout that stretches you physically and requires high energy. Without endurance, you won't be able to make stunts, tumblings, and jumps repeatedly.

Strength

Any sport requires strength. As wholesome as cheerleading is, you need a lot of strength when doing a routine. It is a full-body workout involving legs, shoulders, and core. You to build energy and strength so that your body can deliver movements seamlessly.

Flexibility

Another equally important aspect of cheerleading is flexibility. Without it, you cannot execute the routine flawlessly. Flexibility means you can create different movements and power moves well. Your body will not receive too much pressure if you have enough flexibility. The high kicks, tumblings, and stunts will look effortless with flexibility.

Coordination

Cheerleading is a fast and rigorous activity. Your whole body must have enough coordination to be able to keep up with the changing moves. It means your legs, arms, and core work together to deliver a routine properly. More than that, your hearing is always alert to the changing tunes and music. Coordination always comes with attention, making you focused the whole time.

Team player and leadership skills

The success of cheerleading highly depends on how a team is coordinated. This sport requires you to become a team player and work with different people. You have to build camaraderie with your team to make a confident routine successful. All members of the team should be in unison when executing stunts and sequences. For you to have a great team, vital leadership skill is crucial, as well.

Optimism

The best routine you could ever watch is when every member you see is all smiling. A cheerleader encourages the crowd to cheer and support a particular sports team. To do this, you need to develop positive energy through upbeat chants and huge smiles. Confidence is also essential when channeling optimism in every move and sequence.

Sportsmanship

Sportsmanship is another skill that you can develop in cheerleading. You become a good team member and treat other members properly. It is an excellent way to learn to respect authority through your coaches. You will work well with others to achieve and win a competition.
If you always want to become a cheerleader, starting now is a good move. Cheerleading is a sports activity that exercises your physiological and social health.
It is a physical activity that develops your core, stamina, flexibility, and coordination. You can gain balance and the proper fitness when doing cheerleading, as well. It will improve your overall state when done regularly and religiously.
Moreover, it is also a social activity where you learn to communicate with others. It makes you be a team player where you interact with other members. It encourages you to be more sociable, and make friendships, too.
More importantly, it helps you to become the best version of yourself. It builds self-esteem and confidence in the process. Cheerleading is a healthy sport from which you can get a lot. So, begin now, and become a cheerleader.