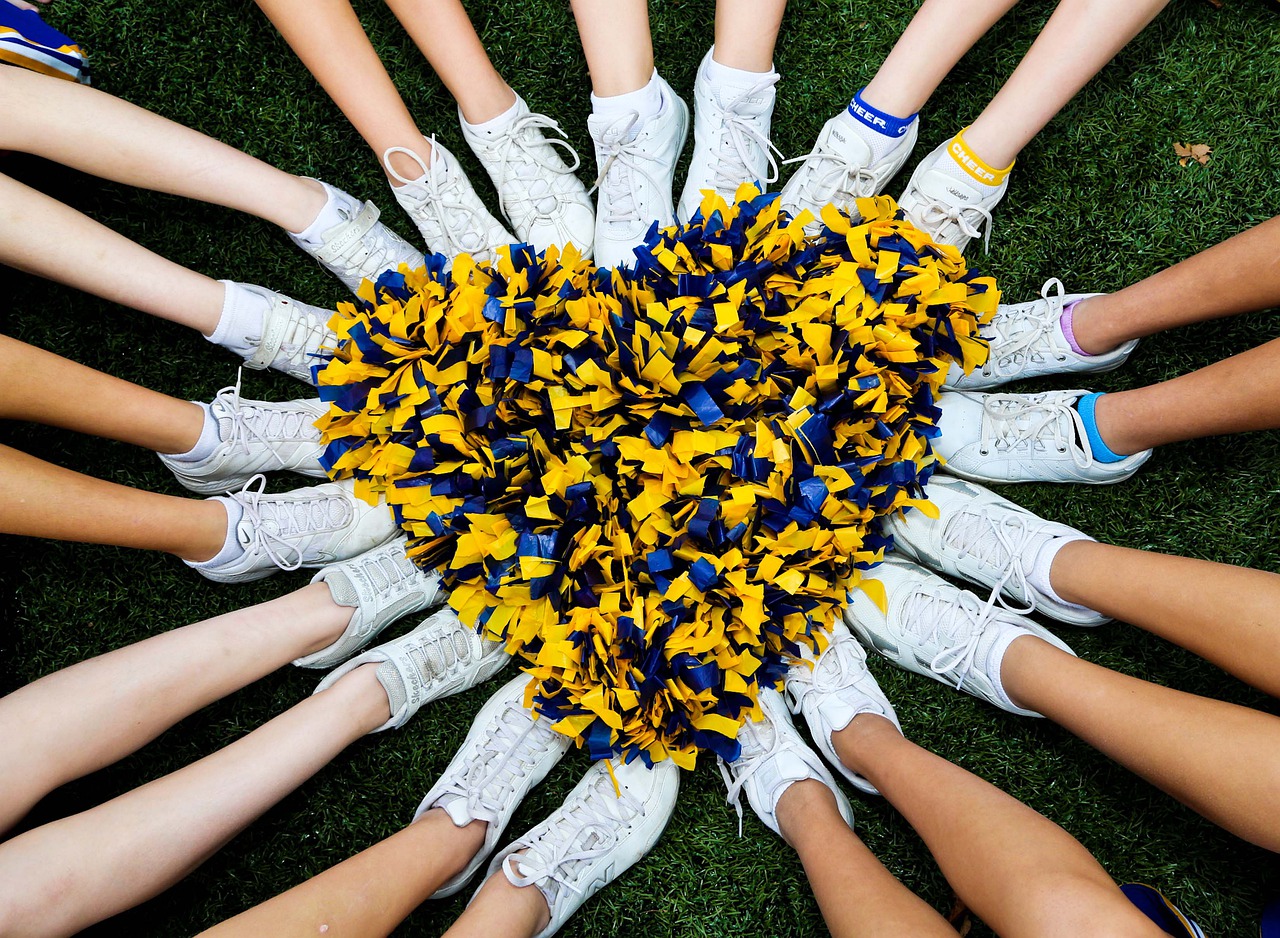 Cheerleading has grown through time from the spirit squads to the intense sport it is now. The shoe cheerleaders wear changed to fit the developing stunting and tumbling methods.
Cheer shoes also correspond to modern culture and fashion trends at any given period. Now, Designers make cheer shoes for stunting, tumbling, jumping, and choreography. As a result, if you're going to the gym for strength training or a run, you'll need a different type of shoe.
Running in your cheer shoes could cause discomfort or injury. It will also wear down your cheer shoes faster. This is because designers made the shoes for cheering, not running or weightlifting. As a result, cheerleading footwear is not suitable for running.
Your practice shoes are likely to get scuffed and worn as you practice every day. As a result, many cheerleaders keep a pair for practice and competitions or game days.
Cheerleaders have to run a lot to keep up with their routines and stunts.
Running is another activity that the entire squad can take part in during practice. Coaches should encourage Cheerleaders should engage in aerobic exercises or dance classes.
Increasing endurance should take up at least half of your regular workout time.
Running or in-line skating should serve as the cornerstone for your training regimen. Cardio workouts should include strength, balance, and flexibility training. These workouts are vital to helping cheerleaders get in shape for cheerleading.
What are cheer shoes good for?
Without a comfortable pair of cheer shoes on your feet, your cheer outfit would be incomplete. That's how it's been since the beginning.
Before, cheerleading squads used to wear essential saddle shoes with knee-high stockings. Cheerleaders now wear these shoes with long pleated skirts and wool cardigans. In the case of males, they long baggy pleated pants.
Cheer shoes haven't altered much since the 1960s. During the mid-1970s, saddle shoes returned as a popular addition to the cheer costume. Other squads began to opt for the more athletic shoe to complete their ensemble.
One of the most crucial components of each cheerleader's uniform is their cheer shoes. A cheerleader's shoes must allow for athletic movement as well as comfort. As a result, cheer shoes are good for supporting the ankle and foot during floor feats.
Switching from classic shoes to cheer shoes may make a massive difference in how you jump, flip, and land. You should do this even if you're only practicing some simple maneuvers in your backyard.
Most athletic shoes aren't all white. Some shoes also contain accent colors, a colored sole, or colored shoelaces.
Cheerleaders' feet heat up and swell as they prepare and execute strenuous performances. Thus, it makes the cheerleader experience agony. Designers use breathable materials when making the shoes to promote comfort.
Cheerleaders can look crisp, clean, and pristine down to their toes since leather is easy to clean. Shoes have evolved to become lighter, more shock-absorbent. People now make cheer shoes for each stunt group position. As a result, cheerleading costumes have developed to ease more significant movement.
You must always wear the right shoe when practicing cheer. It would help if you always bought the right kind regardless of how strenuous or relaxed you are.
How do cheer shoes run?
Cheer shoe trends have tried the original canvas and saddle shoe with great success. It appears that the times have changed, and teams are now choosing for an all-around athletic shoe. Because cheer entails a wide range of firm actions, an all-purpose sports shoe is the best option.
In general, you'll want to seek a comfortable design in a good athletic shoe. A good shoe will reduce injuries while increasing performance. Improper shoes can cause ankle, shin, knee, back, and hip ailments. Remember, if your shoe size is between, go for the larger shoe and wear thicker socks.
Cheer shoes often run a half to a full size smaller than a regular street shoe. You should get a size 8.5 or 9 if your girl wears a size eight tennis shoe.
Cheerleaders nowadays wear sneakers. Big names have joined the game, with Nike, Converse, Reebok, and Adidas producing cheer gear. Chasse and Kaepa are two more brands that are well-known for their cheering shoes.
You can have the most expensive shoe on the market, but you shouldn't wear it if it doesn't fit or isn't suitable for the sport. A good pair of athletic shoes will usually last a year or two. The couple often depends on how well the team performs and how your youngster grows.
Because all brands fit, it's critical to try them on before buying one. On a hard surface, try the shoes on both feet and walk around in them. On different characters, they will have a varied sensation.
Keep in mind that your youngsters need room to grow, so a thumb width at the toe is a reasonable rule to follow. Suitable fitting cheerleading shoes will increase your child's performance. They can even help them avoid injuries.
How long do cheer shoes last?
Most sports need new shoes at least once a season, but cheerleading is no exception. This is because one discerning characteristic of cheer shoes is their little weight.
Stunting and tumbling need a lighter shoe. But, this means the padding, soles, and sides of the shoes are often less durable than heavier athletic shoes. The whole point of a good shoe is to wear it, so invest in a new pair every season to get the most out of it.
Midsoles often degrade after 45-60 hours of aerobic dance activity. That time frame is likely to be shorter for cheer shoes. This is because of all the stunting, tumbling, and jumping you do in cheerleading shoes. That's a lot of pressure for your shoes to bear daily.
Cheer shoes aren't as pretty as hair bows or as fashionable as uniforms. But, they're an essential part of a cheerleader's appearance and routine. They protect cheerleaders' feet and make stunting, jumping, and cheering much safer.
Cheer shoes aren't like ordinary sneakers. You can't wear them anywhere and throw them around. As sure, you should treat cheer shoes with extra care and cleaned them to keep their white color. It's critical to keep your cheerleading shoes clean.
Like many other sports, cheerleading needs many pairs of shoes. Cheerleaders also need different shoes for competitions. 34% of cheerleaders have two to four pairs of shoes.
Cheerleaders must perform a demanding performance that includes stunts, tumbling, and jumps.
Quality shoes should be able to withstand even the most challenging cheer practices. Furthermore, the interior of the cheer shoe includes a smooth vinyl surface. The surface extends the life of your cheer shoes.
Can you wear cheer shoes outside?
Cheerleaders spend a lot of time on their feet. It is vital to buy comfortable and relaxed shoes that you can wear for long periods. The most incredible cheer shoes will have decent treads, arch support. They should also be lightweight and breathable and provide your feet with a wide range of motion.
The first critical consideration when selecting a sneaker for your squad is comfort. The team should choose a cheer shoe that is as light as workable while also providing enough support.
It would help if you also chose a shoe based on the types of skills your cheerleading squad performs. It is also important to consider who your team cheers for.
You should only wear Cheer shoes at practice and during performances. As such, it implies that you should not wear them outside. When walking from your car to the gym, you should not wear your shoes right after or before practice.
Wear regular shoes, then change into your cheer shoes shortly before practice. Designers didn't make outdoor cheer shoes to withstand surfaces like gravel or concrete.
Limiting the length of time you wear your shoes will help them last longer.
It's critical to look after your cheer shoes, especially if you're part of a competitive squad. It's impossible to expect a sideline cheer shoe to perform well indoors. For example, mesh sneakers don't last long while you're cheering on the football team.
Leather shoes are ideal for the outdoor, while for indoors, mesh shoes are preferable. This can cause problems for your team if you order a terrific cheer shoe to find out that it won't hold up outside.
How tight should cheer shoes fit?
The footwear was not that important in the early days of cheerleading. Cheerleaders often wear knee-length socks and saddle shoes or flat canvas sneakers.
Cheerleading has come a long way since then and is now considered a sport. Because of this, cheer shoes, such as Keds, Varsity, and Nfinity, started around 1960.
Cheerleaders spend most of their time on their feet performing stunts. Due to this, having the right shoes is crucial. The comfort of your shoes can make a significant impact on your performance.
The thumb width will be ideal if you are growing, neither too big nor too tiny. If you prefer your shoes to fit without a thumb width, make sure you move around to check the front area of the shoe does not disturb you when cheering.
The first thing you should do is go to a local shoe store and have your foot measured. After determining your foot size, you can select the correct shoe size based on how the show flows. The Brannock measurement is the ideal place to start. The Brannock is suitable because some shoes run small, and others run large.
Consider how the length fits while trying on your cheer shoes for the first time. You'll want around a thumb's width of leeway in a standard street shoe. This allows for growth and general comfort around the shoe. Despite this, there are still a few things to consider.
You want footwear that not only looks beautiful. But, it should also meet your demands while engaging in this demanding sport.
There is often an understatement when it comes to choosing the appropriate shoe. When purchasing cheerleading shoes, you must consider comfort. It would help if you also regarded as fit, style, features, and, of course, your budget.
Are you supposed to wear socks with cheer shoes?
For more than a century, cheerleaders have dressed up to lend spirit to the sport. Cheering for teams has progressed from a sideline activity to a full-fledged sport. There are even participants competing in events and receiving prizes like other sport.
Cheerleading clothes have evolved from bulky sweaters and pleated skirts to tailored fits. Cheerleaders now use sleek spandex attire to adapt to today's moves as the sport has grown.
You should always wear a pair of cheer shoes with cheer socks. Socks are vital because they protect your feet while also making you comfy. They also offer a fashionable touch to your current cheering outfit.
Poms, megaphones, cheer bags, protective clothing, and accessories are essential cheer gear.
Having the greatest cheer gear, socks, and other attire, is crucial if your child is a cheerleader. You will select cheer socks that are comfortable for your child.
You may match various cheer socks to your cheer outfits, depending on the color. You can use them with warm-up jackets and pants and body necessities.
Socks are a necessary component of most athletic attire. Only a few activities, such as swimming, do not need the wearing of socks. Basketball, soccer, and running are among the sports that need socks as part of the uniform.
Socks are now a standard part of most cheerleading and dance teams' uniforms. Even though socks may appear to be little accessories, they are among the most vital. Socks' advantages extend beyond their ability to complement an outfit.
You'll need socks that are soft, absorbent, and contain cooling technologies to keep your feet dry and comfortable. It also depends on the sort of sock your team needs to wear. Footsies, ankle socks, crews, and knee-highs round off your ensemble and keep your feet warm.