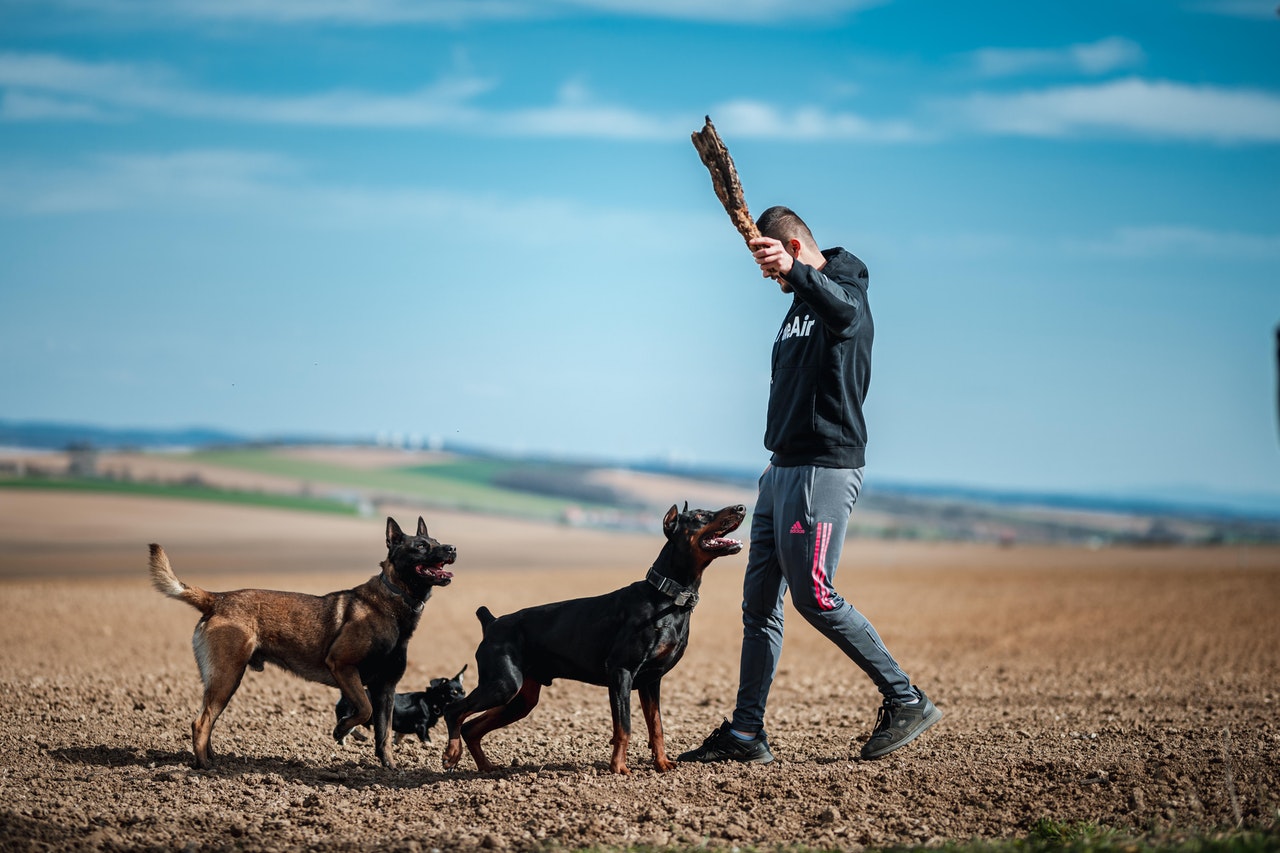 Classified as a working breed, Dobermans are perfect for running. They are energetic, intelligent, obedient, and brave. They need exercise every day that can match the energy of runners. If you lead an active lifestyle, Dobermans can be your best running buddy.
Dobermans are muscular, they stand tall, and they look powerful. When you walk side by side, most people will hesitate to come near you. They look intimidating even as young as seven months old. Particularly for males, they grow fast, and they look courageous and strong.
There are many different reasons why Dobermans are suitable for Running. They are, in general, big dogs. They grow up to 27 inches for females and up to 28 inches for males. Thus, they need plenty of physical activities.
Dog trainers also use the following exercises and activities for Doberman training. These are Frisbee toss, Jolly ball, tug of war, swimming, and other fetch game. If you have enough time in your hands, you can do your activities for your dog.
They are intelligent dogs, and you can do some mental exercise with them. Before you can bring them on a hike or run through challenging trails, you must prepare your dog. Develop its physical and mental abilities to surpass obstacles along the way.
What are the different types of Doberman?
There are two different types of Doberman, the European and American varieties. They have different body shapes and appearances. Let's take a look at the various physical attributes of the two varieties.
American Dobermans are usually lean and long. They are sleek-looking dogs that are best for the show ring. They have smaller heads and paws. Their muzzle looks sharper and slimmer than the European Dobermans. Though thin, American Dobermans look daunting.
Their height ranges from 24-26 inches for females and 26-28 inches for males. Females usually weigh around 60-90 pounds, and males are between 75-100 pounds. They're pretty big and not something that anyone would pet when they come up to you on the streets.
On the other hand, European Dobermans are larger. It is because they have a history of working and protecting dogs. They are usually heavier and compact compared to the American variety.
They are thicker, shorter in body length, and more muscular. This variety usually grows between 27-28 inches for males and 25-27 inches for females. Female's weight range is between 71-77 pounds, while males are from 88-99 pounds.
European varieties usually have shorter body lengths and larger heads. They have darker eyes and have darker markings compared to American Doberman.
Though there are notable differences, it is still evident that Dobermans are big dogs. They need enough exercise daily to drain their energy and avoid destruction in your home.
Dog trainers also use the following exercises and activities for Doberman training. These are Frisbee toss, Jolly ball, tug of war, swimming, and other fetch game. If you have enough time in your hands, you can do your activities for your dog.
They are intelligent dogs, and you can do some mental exercise with them. You can bring your dog on a hike or run through challenging trails; you must prepare your dog. Develop its physical and mental abilities to surpass obstacles along the way.
Are Dobermans fast runners?
Considered as an athletic breed, Dobermans are fast runners and can run up to 32 miles per hour. Identified as one of the top 20 fastest dog breeds, they are ideal running partners packed with energy.
Aside from being fast runners, they are also alert, quick, and intelligent. They are easy to train and can run side by side with you wherever you go. Doberman's life span is usually between 10-12 years. You will not have a running buddy but a protector and a best friend.
They are also very observant. Dobermans know and remember your daily schedule and the time that he should be eating or walking. They are familiar with your responses and even your gestures.
Several dog breeds can serve as your running partner aside from Dobermans. It will be a surprise to see the variety of fast and with strength and endurance.
Let's check out the fastest dog breeds and see how fast they can go.
| | |
| --- | --- |
| Greyhound | 45 mph |
| Saluki | 42 mph |
| Sloughi | 42 mph |
| Afghan Hound | 40 mph |
| Vizsla | 40 mph |
| Whippet | 40 mph |
| Jack Russell Terrier | 38 mph |
| Dalmatian | 37 mph |
| Borzoi | 36 mph |
| Doberman Pinscher | 32 mph |
| Border Collie | 30 mph |
| German Shepherd | 30 mph |
| Great Dane | 30 mph |
| Poodle | 30 mph |
| Siberian husky | 30 mph |
These are some of the top fastest dogs in the world. It won't be hard to find a running mate from all these choices.
When Can I start running with my Doberman?
Experts suggest that you start running with your Doberman when they reach 12 -18 months. At this age, your dog's physical structure is wholly developed. They will have enough energy and stamina needed to keep up with a run.
Even the fastest dogs cannot do their best when they are still puppies. They are still growing and are fragile. They quickly fall, stumble and get hurt. They are still finding their balance and long runs are not suitable as their exercise at a young age.
When their body is not yet developed, they are prone to slips, injuries, and accidents. These mishaps might affect their growth when forced to engage in the long run. As puppies, they get tired from doing activities for longer periods.
It is evident that Dobermans below 12 months are tiny and have short arms and legs. Thus, keeping up with you in a run is challenging and exhausting. They also need lots of breaks and plenty enough water to hydrate them.
You have to take note that this is not true for all dog breeds. Generally, expert advice is to wait for your dog to reach one year and a half to make them start running with you. Dogs have different personalities and abilities.
Some breeds are ideal for taking with you as your running partner, and some are less into it. It would help if you also took it one step at a time when introducing your dog to running to avoid any future injuries.
Are Dobermans easy to train?
Having a dog is not only about playing, cuddling, and being cute and silly. It is a big responsibility that makes some people have second thoughts in getting one. Aside from making sure that you can feed them well, you also have to maintain a safe space for your family and your pet.
Most dogs are trainable. Like people, some dogs will learn faster than others, while some will take a little more time to master. There are instances where they pick up bad habits along the way. That is entirely normal. The key is to be consistent and make sure to prepare if you are doing the training yourself.
Dobermans look rigid and stiff, and many people assume that they are hard to train and control. But Dobermans are intelligent dogs, and they are easy to teach. You can train your dog the most basic commands using the right way and timeline. You need to research this if you are doing self-training.
If you want a reliable and trained Doberman, you need to start early. A simple command of sit, stay, and heel will come in handy, especially when training your puppy. You may begin as early as eight weeks and focus on making the experience for your dog a positive one.
Dobermans are one of the most intelligent dogs in the world. Yet, without proper training, they are not easy to control and might adapt to aggression as they grow. Untrained dogs will be a big problem most especially when they are growing big and strong.
Tips in Training a Doberman
Make it a daily practice
Set the same time, place, order, and responses
Develop a routine
Decide a place for discharge and stick to it
Use positive training method
Again, invest time early on and be consistent in your training. Be generous with rewards when they did a good job. You may give a treat, a belly rub, or allow them to do what they want. Rewards are essential in the training process.
It depends on you, the owner, how to communicate with your dog. Build trust and strengthen your bond with your dog for an easier and more fun training session.
What are the best dogs for running?
Fast dogs do not equal best running dogs. There are short dogs that do not have the endurance to keep up with you in a long-distance run. Weather conditions are also something that you need to consider when bringing your dog for a run.
Before bringing your dog, you need to ask yourself these questions: Can my dog withstand the cold or the heat? Can it surpass technical trails with ease? Can it run in the snow? This basis will separate the best running dogs from others.
The best dogs for running are those with high energy and agility. Those who can bear sudden changes in weather conditions. Some of which are Siberian Husky, Vizsla, Parson Russell Terriers, and Greyhound.
Let's look at some of these exceptional dog breeds.
Huskies; they a dubbed as sled dogs. Their nature is to run, not only long routes but also in cold weather conditions. This dog breed seeks work and exercise. They love running, whether a workout or for playtime.
Another one is the Weimaraner, popular as hunting dogs; running is in their genes. They are energetic, intelligent, powerful, and steady. They make the best partner for long and medium-paced running.
The last example is the Vizslas. They are one of the best running companions because of their athleticism. Like Weimaraner, Vizslas descend from hunting dogs. They excel in many sports and activities that showcase their stamina that is ideal for long runs.
Here are other breeds that can be your running buddy. There are English Setters, Dalmatians, Rhodesian Ridgebacks, German shepherds, Border collies, and many more.
Are Dobermans good off-leash?
Most Dobermans are good off-leash. But even the highly trained Dobermans can show undesirable behavior when triggered. Almost all Doberman owners are not confident in letting them off the hook in public.
Dobermans are fast and unstoppable when they see something that awakes their curiosity. No matter how you train them, there will be situations where they will not follow your command right away.
In a forum of Doberman owners, they are not complacent in letting their dogs off the leash in public places. Places with many people and unfamiliar surroundings can trigger a dog's curiosity. Listening to your command when they see something interesting is not an option.
Usually, they allow Dobermans off the leash within their backyard. They make sure that they surround their area with high fences and secure the gates.
In dog parks, you can let a trained Doberman off the leash and enjoy a fun time with other dogs. You must be very attentive, don't let your dog out of your sight. This will ensure immediate response when something undesirable happens.