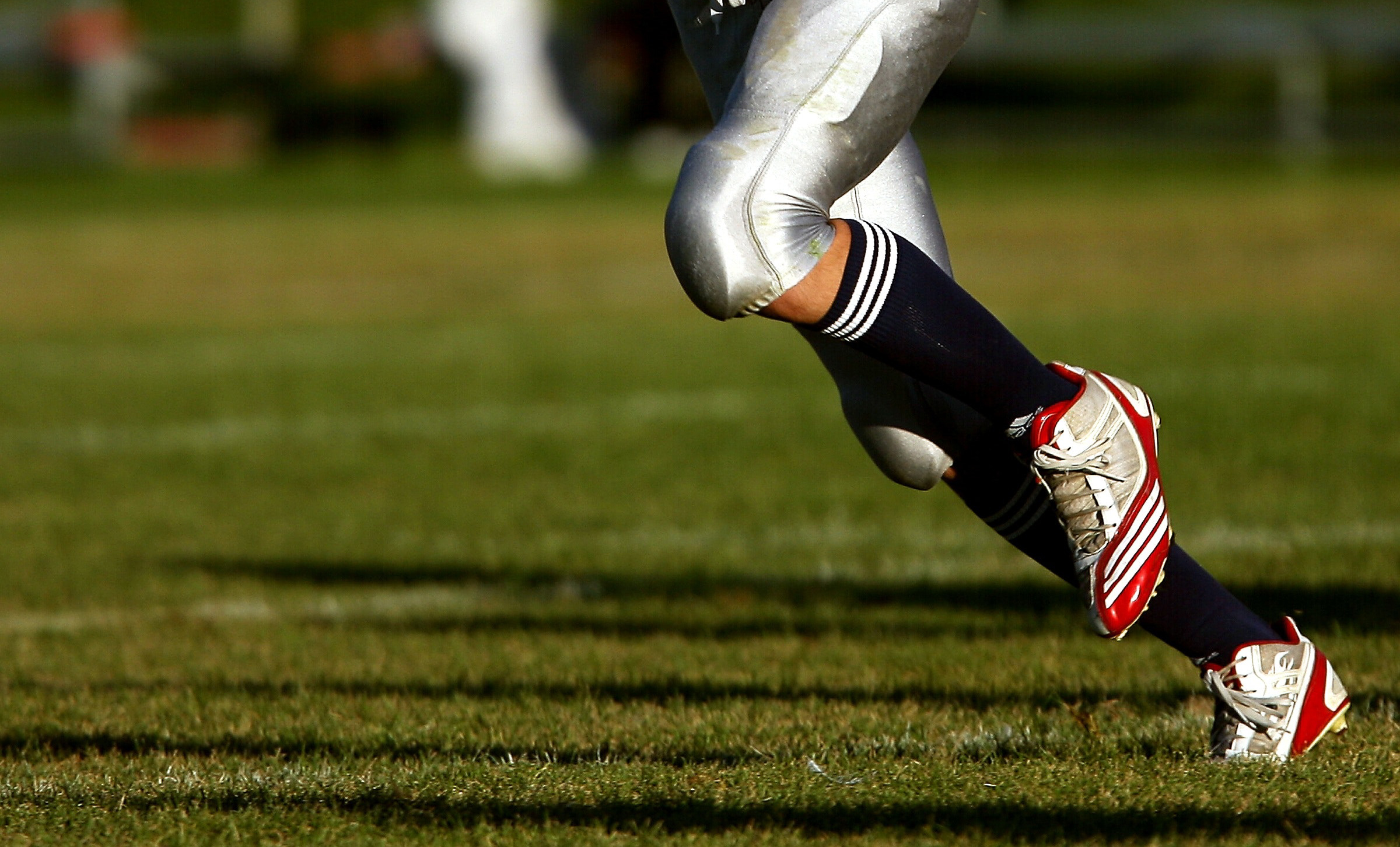 Many individuals, all over the world, like playing sports and exercising. Running and football are excellent ways to stay in shape. They can also keep your cardiovascular system in good working order.
Having the right shoes for each activity is critical to getting the desired outcomes. This is especially true since each activity has its own set of requirements. Apart from your talent and motivation, shoes are one of the most crucial parts of these activities.
Running on a hard surface while wearing football shoes might harm your ankles and knees. There is also the possibility of slipping and suffering a severe injury. Football shoes are, thus, bad for both leisure and professional running.
Football shoes have various studs on the sole that dig into the ground and provide more traction. This traction allows the athlete to execute easier cuts on the field. At the same time, it also keeps them upright and with quick and sharp moves.
Football shoes also make it easier for players to sprint faster. They also help players stay stable when pushing off the ground.
Running and football shoes are both made for distinct purposes. Manufacturers made Running shoes for trail running. As such, they focus more on comfort, distance cushioning, and most excellent grip.
You can wear football shoes if you have an entire training session on a well-attended grass field. If you are jogging a long distance on a track or changing surfaces, you should wear running shoes.
Football cleats give grip, protection, and support while making plans to get into the end zone. As a result, you must locate the best football cleats for you, which isn't an easy undertaking.
Football shoes do not have as much heel padding as typical running shoes.
Furthermore, it does not impact your feet like running on a hard surface like a cement sidewalk. This is because football includes more on running on the field.
Can football shoes be used for daily use?
Football shoes are a type of shoes used when you're playing association football. To enhance traction, those built for grass pitches feature studs on the outsole.
Football boots have gone a long way since their humble beginnings. They now find themselves at the center of a multi-national global industry. The shoes are even undergoing extensive research, development, sponsorship, and marketing.
You cannot wear football shoes daily because the spikes on the shoes can harm floor surfaces. Football shoes should have a tight fit. But, it can be harmful to the wearer because it is slippery on indoor surfaces, especially if worn every day.
Modern football shoes are no longer proper because they do not protect the ankle. Their basic design and appearance have converged with sneakers since the 1960s. Trendy football shoes are now more like most types of specialist sports footwear,
It's almost a century after the first mass production of football shoes. Today's football shoes combine force-plate technology, computer analysis, and modern materials. Designers do this to improve an athlete's performance, whether on natural grass or not. It's almost a century after the first mass production of football shoes.
Football-style shoes make the foot stationary in the turf for a brief moment. As such, it makes it unyielding to any internal or external imposed forces. People believe that because of its design, there could be a cause of the greater injury rate. It's easy to see why long-cleat football shoes result in more injuries.
Football boots should also be a snug fit but not too tight, with enough room for your feet to breathe. Of course, here is where the upper material you choose matters the most. This is because some materials expand over time while others do not.
Polyurethane makes up the Modern football shoe, which contributes to the shoes' lightweight. Many high-end companies use synthetic and polyurethane materials in their footwear.
Genuine Leather was once the preferred material for football cleats. While some football shoes often use Leather, there are still some that use synthetic materials.
Polyurethane and ethyl vinyl acetate are common materials used in football shoes. The look of these materials ranges from plastic-like to rubbery to leather-like.
Can football shoes be used for gym?
You'll want a breathable shoe with mild support when going to the gym. It is also good to have little to no bend in the sole for general gym training. This is so you can grasp the floor and use your toes for balance in strength and conditioning routines.
While you're in the store, go around and jump up and down. It's also vital to wear socks that you'll be wearing while exercising to get the best fit. Additionally, you must be confident that the shoe you pick fits the activity you intend to engage in.
Football shoes have thicker outsoles and heavier construction than other shoes. As a result, when worn on cement floors, they are very unpleasant. Wearing football shoes off the field can damage them. This is why you should not wear football shoes to the gym.
Manufacturers often use Leather and synthetic materials to make football shoes. Some even use rubber, rigid plastic, or metal to make detachable cleats. They're also available in a variety of lengths to accommodate different playing surfaces.
Football cleats, known as football shoes, are specific footwear worn when playing football. Manufacturers made them for the pitch and the cleats on the bottom of the shoe help with traction.
Football shoes are not a new concept. They have even evolved due to advancements in technology and research. Cleats today provide more cushioning to the foot, ankle, and knee. As such, you can avoid impact injuries can with the right cleats.
What is the difference between football shoes and running shoes?
Football and athletics are two very distinct sports. Playing football increases your reflexes and builds powerful muscles. Building your muscles comes in handy while competing in races.
Meanwhile, running improves your physical fitness. They even keep your cardiovascular system in good shape. You can often link athletics with football. But, there is a difference in the shoes for both competitions.
Incorrect sports shoes are neither viable nor acceptable from a technical standpoint. Proper shoes are essential for achieving the desired outcomes. This is besides your daily workout and consistent practice.
Runners need more excellent cushioning in the heel and forefoot than walkers. As such, running shoes often have air cushioning systems. Meanwhile, football shoes feature less padding towards the heel. This is because the field offers enough cushioning for your feet.
Running shoes provide good foot support, but not as much as football shoes. When running on grass and kicking the ball hard, you need shoes that fit your feet. Your running shoes do not have to lock your feet.
Meanwhile, it is a must to use running shoes for running or track events. This is because the shoes provide traction to your feet when running.
Football shoes need more grip since they must run through grass that grows on dirt and slick areas. Football is a fast-paced sport in which players must be on their toes. As a result, if you're a football player, you'll need shoes with blades, studs, or spikes.
In the case of running shoes, you can often use them on synthetic tracks or grass. Meanwhile, running shoes are not on the cement sidewalk.
Both shoes need breathability. But, your legs will need more ventilation if you run for long periods or in a marathon. Meanwhile, football shoes are always breathable. Football shoes allow for ventilation and temperature regulation in your soles.
The running shoes have a higher level of arch support tailored to the shape of your feet.
Regardless of the form, though, your feet need enough protection. The arch support needed by football shoes is less.
Is football good for running?
Running every day could be beneficial to your health. According to studies, running 5 to 10 minutes at a moderate pace every day can help lower your risks of suffering from heart attacks and the like.
Football is a simple, all-encompassing sport. But, besides being a ball sport, it's also an activity that improves your endurance. It also enhances aerobic fitness due to constant running. Football skills and are physical workouts that help you tone up your coordination.
When you first start jogging, your goals will most likely be primary and unrelated to speed. After a while, you'll almost begin to think about how you can improve your speed.
In a football game, a player becomes active for a long time. Dynamic movement keeps their heart rate high and allows them to maintain good form. When it comes to running, maintaining a decent heart rate and structure is crucial. As a result, football is beneficial for running.
Speed, agility, power running, and conditioning are all elements of top running programs. Many trainers often mention that a good running program results in better-conditioned players.
Footballers should have muscular aerobic fitness. They are always on the move and jog a lot, and there is only one half-time break.
When you first start running, you'll see that being consistent will help you make progress. It could even improve the frequency and quality of your workouts.
But, you might enjoy changing your running technique over time. Though doing so without the help of an expert might be difficult. Standing tall and leaning forward from your toes should be your posture.
The two sports activities that science has proven helpful to one's health are football and running. Many studies show that both football and running even improve your aerobic function.
It would help if you used all your physical abilities, like in many team sports. You'll be working on your balance, whether you're diving to save goals or jumping for headers. Running will also help you improve your speed, one of the most critical aspects of this activity.
Football is a team sport in which the focus is on running. During a match, adults can run up to 10 kilometers. You'll also gain an endurance boost besides having fun kicking free kicks.
Your matches and training sessions will help with your cardio and breathing if you do them. As a result, athletes improve their sprinting abilities.
Do footballers run long-distance?
Staying sharp on the football field needs a lot of hard work. Players must put in hours of training throughout the season.
Footballers can identify areas of weakness and focus on improving them. They often do daily training to enhance their entire game.
Running is an essential part of a football player's training regimen. Although, trainers should not include long-distance running in a football running program. This is because running long-distance can make the player slower. Plus, in a game of American football, players rarely run more than 1.25 miles.
But, If the players must run approximately 1400 yards, you can break up the distance into shorter ones. This way, it is like the high-speed, short-distance runs that the player would face in the game.
Football is a 'power sport,' requiring a lot of strength. Long-distance running, unfortunately, does not provide these outcomes. It even has a different effect. They can, in reality, make football players weaker and slower. This is because muscles contain fibers that are "slow-twitch" and "rapid-twitch."
Football players also do not need to run 20 miles to prepare for game day. But, they need stamina and endurance to play four 15-minute quarters. Footballers, as well as other elite athletes, often engage in high-intensity, explosive movements.
They enable the rapid and robust motions required in the sport. So, when footballers run long distances, they stimulate the slow-twitch muscle fibers. This means they are exercising those fibers while ignoring the quick twitch fibers.
As a result, their bodies and muscles develop accustomed to the slow motions. Soon, their slow-twitch fibers will begin to outnumber their fast-twitch fibers.
As a result, players who run long-distance are hurting their ability on the field. They should instead do activities like sprinting to maintain fitness and muscle growth.