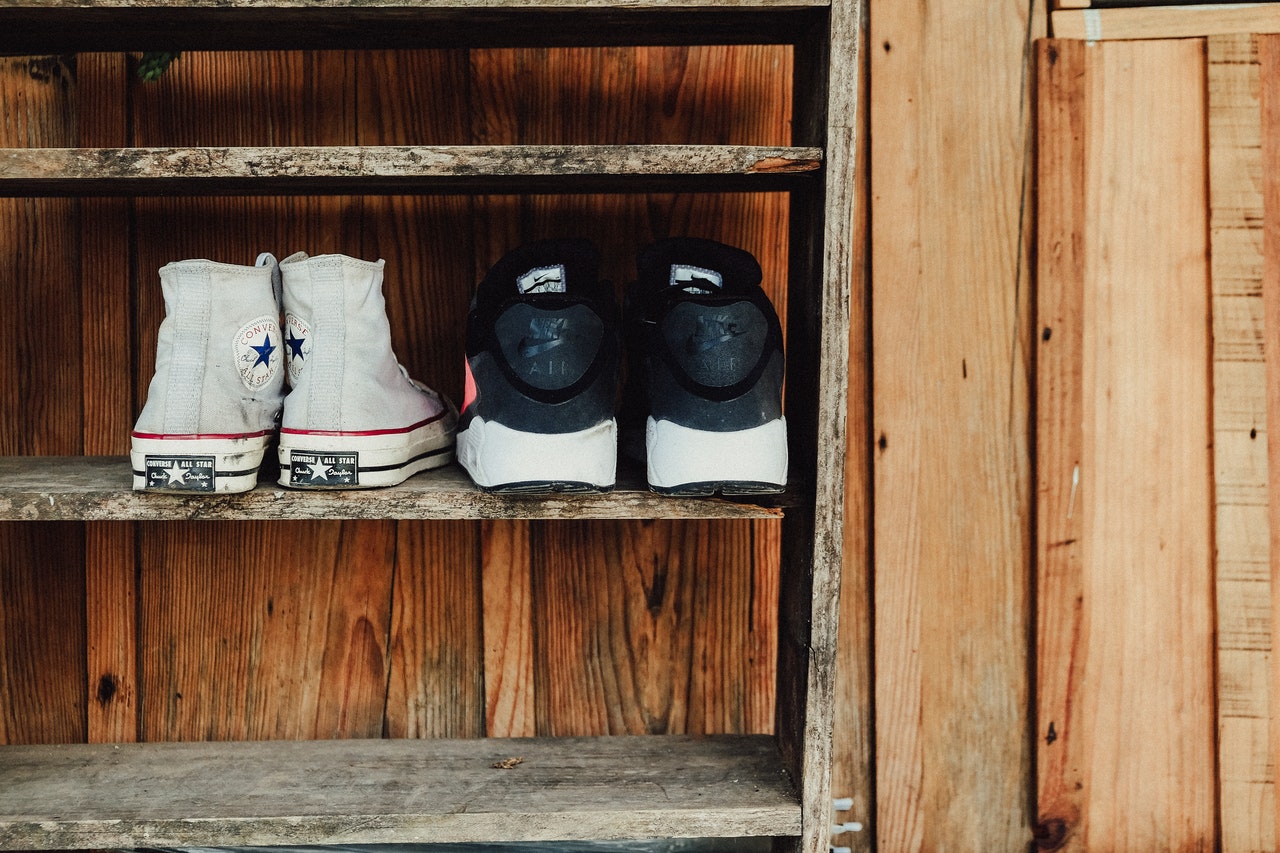 A high-top is a shoe that extends past the ankle of the user. It's a popular sporting shoe, especially for basketball. People call them "High-tops" because they usually come up above the ankles. This is unlike many other shoes that end below the anklebone or boots that reach the thighs.
High-tops should not be mistaken with shorter-length boots like ankle boots. This is because high-tops relate to athletic shoes. But, they can also refer to other above-ankle shoes like some hiking boots.
High-tops dominated the basketball floor in the beginning. Spalding used canvas when he crafted the first-ever high-top. It also featured a thinner rubber sole than the Converse All-Stars, which debuted in 1917.
Before, the high-top's safety trait was not a priority for early shoe manufacturers. It would later then become its selling point. In recent years, high-top running shoes have made a strong resurgence. Back then, people in the 1980s only wore high tops. This is why its reappearance is fantastic news for trend-setting runners.
The most popular feature of this design is that it provides extra support for your ankles. Meanwhile, it also increases the level of stability of the wearer.
High-top running shoes are well-known for providing excellent support. This makes the shoe suitable for running. They will almost always give a little more support and stability than a "conventional" running shoe. This is because they usually provide a more solid and stabilizing fit.
This ensures that your ankles do not wobble or roll around. If you're a frequent runner, you're well aware that you'll need a running shoe that provides support. This is crucial if you have special food requirements or conditions.
One of the most crucial elements to consider in a running shoe is the level of comfort it provides. If you're a long-distance runner, you'll need a pair of shoes that will make you comfortable miles on end.
Meanwhile, short-distance runners will need shoes that will allow you to push yourself. This is without limiting all your other needs.
Some of the shoes are suitable for trail running. Meanwhile, others are more suitable for indoor jogging.
Consider how you'll use your shoes the most and how they'll best meet your requirements. Consider reflective elements, breathability, and extra protective cushions or caps.
High tops have also become a classic trend in the fashion world. As a result, high-top running shoes are the ideal combination of style and function. The high collar style is fashionable and provides a pleasant touch. It may also help keep debris out of your shoes and give a bit of extra support.
Do high tops slow you down?
The high collar on high-top shoes gets its name because athletes used it to protect and support the ankle.
Meanwhile, Today's high-tops are far more complex. The most recent shoes offer impact protection and cushioning. This helps the wearer to relieve stress on the ankle, knee, and lower back.
High-top shoes traded lightness for sturdiness. As compared to low-top shoes allow for much greater movement throughout a game. Basketball players must be able to move around the floor. But, their position determines how they move.
Wings and guards, for example, usually desire to make a lot of cuts. That rapid movement, along with the steep angles, is time-sensitive. It can be the difference between a missed shot and a simple layup if you're one step too early or late.
As a result, those players choose to wear low-top shoes. They may run as fast as they want. They can do so without sacrificing quality performance, thanks to the lighter shoe.
Although a shoe's weight will not slow you down, High-tops may delay the muscle's reaction to an ankle rotation. This increases the risk of a sprain, according to a recent study. As a result, it will most likely affect your running.
Those tests were biomechanical. This means that researchers observed the feet of volunteers who ran, leaped, and sliced in the lab. This is due to the difficulty and expense of conducting a large-scale study of athletes. And there is no solid evidence has found linking high- or low-top sneakers to ankle problems.
Are high-tops better for your ankles?
A popular concept is that people who take part in sports have a higher risk of ankle sprains. People who enjoy wearing high-top shoes also have an increased risk. They may also help those healing from an ankle injury or those who are more prone to injuries.
An ankle sprain is the most popular way to get wounded in basketball. Surveys estimate putting it at a quarter of all injuries. Even professionals are still prone to these risks.
If the ankle and foot are not supported, it can result in an ankle injury. This is because stopping and changing directions at high speeds puts stress on the ankle.
A sprain or damage to the ankle isn't painful when it happens. It's the kind of irritating, bothersome injury that can last for weeks. Walking around can be difficult enough due to stiff, painful muscles. Let alone the time you won't run or exercise.
According to a few studies, wearing high-top shoes causes the foot to invert less. This is the fundamental mechanism of an ankle sprain. But, investigations have shown that high-top shoes do not prevent severe inversion.
People who run or train out will try everything they can to avoid these unpleasant injuries. While no technology can avoid ankle injuries, this does not rule out the benefit of safe support.
You can offer your ankles the support they need without compromising your performance. You can do this by using the correct shoe, brace, and exercise.
According to many studies, high-tops may delay the muscle's reaction to an ankle turn. As a result, it increases the risk of a sprain. According to another survey, Wearing high-tops increased the stresses on the Achilles tendon. This further increases the chance of damage.
What's the point of high-top shoes?
High-tops are Sneakers with a high top that extends over your ankle. They are often confused with their shorter counterpart, the mid-top. The basketball players shooting hoops made such shoes famous. High-top sneakers are the way to go for next-level support if you're suffering from a lack of stoke.
Many medical practitioners that use these shoes could lead to more injuries. The shoe may prevent the muscles from performing their role as ankle and foot supports.
Daily wear of high-top sneakers as part of everyday fashion may put the ankle at risk of damage. The foot and ankle must be able to move and support the body as a unit. It must also be able to perform motions and actions in all directions and at all speeds.
People made High-tops as a means to reduce ankle injuries. As a result, high-top sneakers can provide a lot more ankle support. This is because you can find the lace above the "ankle" bones. Now, people use High-tops as popular fashion staples.
Athletes believe that high-top shoes help stop ankle sprains by raising the collar over the ankle joint. A high-top sneaker can help support the complex by acting as a mechanical buttress to motion.
There will be minor injury if the muscles support the complex's joints. It would also help to have a limited range of motion.
Some doctors believe that giving too much support to a joint can cause instability. The weakening of the muscle groups causes the said instability. The muscles do not need to be active and aid in supporting the joint if the joint has external support.
Physical therapists assist athletes in recovering from injuries and preventing injuries daily. People ask whether a high-top or a low-top sneaker provides superior protection. It may help clarify the nature of the foot and ankle complex and the distinct roles of high top and low top shoes.
Are high-top shoes bad for you?
Athletes use high-tops to protect themselves from injuries that happen during the game. Yet, the high-top shoe has gained popularity and fashion in mainstream society. They are particularly among children.
There's a lot of debate about which athletes should wear high-top or low-top sneakers. Researchers found no link between wearing high-tops and increasing or decreasing ankle injuries. This is according to a 1993 study published in the American Journal of Sports Medicine.
In other studies, results show that more ankle support during sports can cut the risk of injury. Those who like high-tops argue that the extra support helps lower injuries. They also said that more lacing to keep the ankle joint stable is also beneficial.
They also said that without the added support of high-top shoes on the court, the ankle is open to more accidents. Some examples are breaks and sprains and soft tissue damage.
High-tops also limit mobility. This is why it makes them unsuitable for some athletes, according to some experts. They claim that if a movable joint becomes less mobile, a stable joint above it picks up the slack. This results in higher mobility and, as a result, reduced stability.
If you don't have good ankle mobility, you're more likely to have knee pain. It can reduce performance if you do not use the ankle joint, tendons, ligaments, and muscles.
As mobility declines, so does your performance on all activities. This even includes ordinary tasks like walking and athletic performance. The surrounding tendons, ligaments, and muscles cannot strengthen, resulting in "weak ankles." This is because of the limit of the ankle's range of motion.
High-top shoes have become fashionable in modern society. But, they have also contributed to a generation of ankle and knee ailments. As said before, people made the high-top to aid in preventing ankle injuries in a variety of athletes.
Many other sports, such as high-top cleats, have introduced a performance high-top. Despite this, the goal of the high-top remains the same: to prevent ankle injuries.
There should only be two reasons for you to buy a pair of high-top sneakers. The first factor is appearance. The second reason is that a high-top shoe helps keep dust and small rocks out of your shoes.
Why are high tops so popular?
It's easy to forget that people made High-tops as basketball shoes in the first place. Today, they're the ideal complement to a more modern take on athletic gear. This is especially true when worn as part of an athleisure ensemble.
High-tops dominated the basketball floor in the beginning. After starting basketball in 1891, people also made High-tops for basketball players. The designers made it with canvas and featured a thinner rubber sole than other shoes.
Basketball players' footwear has long been stylish in ways. Meanwhile, other sports have never experienced something similar. This is because they don't wear soccer or football spikes or track shoes to be trendy.
Soon, people started to wear "sneakers" that are not part of their initial purpose. Professional athletes haven't always worn high-tops. Meanwhile, High-tops have been the norm since the 1960s.
Many sneakerheads now like high-tops because of the fresh look they may provide an outfit. Still, the style will determine the method you wear your high-tops. Aside from its trendy looks, its functions as a shoe have also made it famous from past to present.
High tops have become ingrained in shoe culture during the last 50 years. People design the things we wear now with a specific purpose in mind. This is like most categories in men's fashion.
Manufacturers created many high-top shoes for activities that needed ankle protection and support. Meanwhile, classic boot styles inspired others.
One of the most traditional casual outfits in the book is high-tops with jeans. It's a safe bet for coffee or a weekend stroll because it's cool without being pretentious.
The 1970s ushered in a new era of skateboarding footwear. Vans led the way with their legendary SK8-Hi. The said shoe continued to influence new skate designs to this day.
With innovative styles from manufacturers, the high-top shoe market exploded in the 1980s. Among them were FILA and Reebok. Since then, it has entered the mainstream, with its popularity rising.