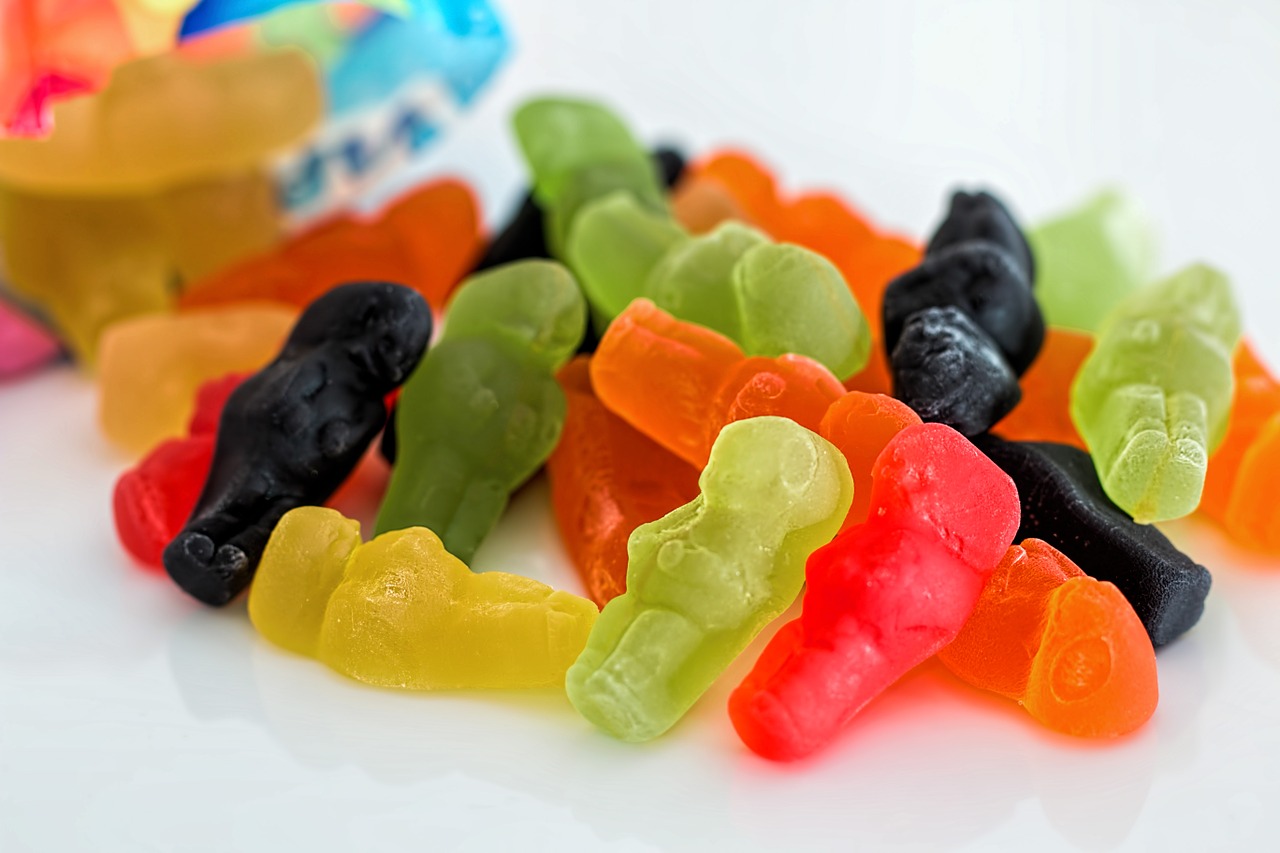 Jelly Babies is a type of sweet candy in the shape of plump babies made of gelatin. It looks like a gummy bear that you eat as a child. It has different flavors and colors that are attractive to children.
It is not a typical candy. It has a long history and has different names before its now popular name. Your great grand-parents for sure had their moments with Jelly babies, too.
In reality, Jelly Babies do not just please a little girl's cry for sweets. It also meets a runner's and high-intensity athletes' need for an instant energy push.
Runners eat Jelly Babies as a source of energy. It is full of micronutrients that fuel your nervous system. It gives the runner the power needed to make up for what's lost after hours of running. It is excellent for running since it's portable.
It is the go-to fuel of runners, cyclists, swimmers, and high-endurance athletes. They are easy to eat and digested, which helps provide immediate results. Plus, it is a cheap way to sustain energy in running or cycling in a marathon.
Many athletes share their good experiences in using it in their marathons. Even non-athletes who do long physical activities give it five stars. It is for helping them feel energized and finish their workouts.
People who join in marathons would include Jelly babies as part of their training. From their day one of training for the marathon, they start taking Jelly Babies. They try different timings and amounts they eat to see what works for them.
What to eat to improve running?
There is lots of nutritious food you can eat if you want to improve your endurance and energy. Aside from the usual fruits and vegetables, you also have to note what and when to eat. It is to make sure that you can use your best ability and strength while on the track.
Eating Jelly Babies is helpful while running. But you also have to be mindful of what you eat before and after your run. You need to prepare your body and replenish it as well as help it recover.
Let's see some good examples of food combinations for pre, while, and post running below.
Before running – Light meals are ideal. Eat at least two to three hours before running.
o Fruits like Bananas, berries, avocado, oranges
o Grains such as Whole wheat bread, pasta, quinoa
o Baked potatoes and other starchy vegetables
o Proteins like salmon, egg, turkey

While running – Make sure that you hydrate well. You can also take small bites to replenish lost carbohydrates.
o Energy bars – Chocolate bars like sneakers and protein bars
o Energy gels – Contains sugar, caffeine, or electrolytes
o other snacks: Jelly babies, gummy bears, dried fruits, and other energy candies

After running – You need to restore your glycogen level. Replace lost fluids and rebuild your muscle.
o Carbohydrates: bagel, pita bread, bananas, energy bars, granola, oatmeal
o Protein: whey protein shake, grilled chicken, salmon, lean pork
o Others: Chocolate, Greek yogurt, watermelon
These choices are just some of the ideal food to maximize you're your energy for your run. It still depends on what your goal is. You might want to opt for low-carb meals if you are planning to lose weight. In general, this food list consists of energy-packed meals needed for your energy.
If there are foods that we recommend, there are also foods that you need to avoid. It is pretty much a general list, but some of these are on the list below:
Deep-fried foods: Fried chicken, red meat, bacon, sausages
Dairy products: Milk, cheese, to avoid gastrointestinal issues
Is it wrong to run every day?
Running every day has its benefits. Studies show that it helps lessen the risks of certain diseases. Examples are heart disease and cardiovascular disease. It also prevents high blood pressure and aids in strengthening the immune system.
While it proves a significant number of advantages in your health, running every day for more extended hours comes with drawbacks.
Running every day may give you more loss than gains. Excessive physical activity leads to strained muscles, soreness, and, worst, injury. Your body needs time to rest for your torn muscles to recover.
Some people say that it is out of habit that they run every day. It helps them energized and start the day right. Others use it as a way of relaxing and clearing their minds. Running every day is not completely bad. It depends if you are preparing for something.
Others might need to run every day, for hours, as preparation for a marathon. But even athletes know very well that they need time to rest. And recovering is an essential part of training.
It would be best if you considered your flexibility as well. Are you a beginner? If so, experts suggest that you run at least three to four times for 30 minutes a week. You can do at-home stretches on your rest days to warm up your muscles.
If you have been running for some time, you can do it four to five times a week for an hour. You can decide when you want to rest. You know your body better than anyone else. So, if you're not feeling well, take that rest day to recover and start strong on your next training day.
An average of 2.5-4.5 hours per week is ideal for getting the most benefits from running, ensuring that you give your body enough time to recover and avoid possible injuries.
Are sweets bad for running?
Too many sweets are harmful not just for running but for your health. It causes acne, tiredness, weight gain and can lead to severe diseases like diabetes.
But you read and saw several articles and advertisements online. They promote some candies to people with an active lifestyle. Some of them are runners, cyclists, swimmers, and athletes in general.
You might be thinking, these people need to take care of their bodies for competitions. But why do these companies sell it specifically to them?
Not all sweets are bad for running. Several sweet snacks are helpful to eat during a long-distance run. It gives runners the energy they are losing. They made these sweets with macronutrients. They did it to provide active people the power they need.
Here are some sweets that runners choose to bring on the road
gummy bears
jelly babies
marshmallows
energy bars
chocolate bars
pretzels.
Though sweets are helpful while running, you still need to watch how much you eat. Too much of anything is not suitable for your body. The right amount of these sweets can aid you in sustaining your energy and stamina.
What are jelly babies made of?
Jelly babies' ingredients are sugar, Glucose syrup, gelatin, concentrated fruit flavoring, and coloring—a perfect ingredient for a snack that fuels and boosts energy.
Carbohydrates and sugar play a vital role in giving instant energy to runners. It is why Jelly babies are ideal when running in a marathon. They give you the macronutrients that you need.
It was in 1864 when they first create the Jelly babies in Lancashire, England. They call it unclaimed babies, then. They suspended production during the second world war. In 1953, they relaunched it as Jelly Babies, and as they say, the rest was history.
Jelly Babies' mass production is standing for decades now and is still very popular in Europe. Bassett's Jelly babies have their unique shape, color, and name.
They produce it in six different flavors. They have lime, raspberry, strawberry, blackcurrant, lemon, and orange. You can enjoy 60 sweet and soft One bag of 400 grams contains 60 adorable and soft Jelly Babies.
What's the difference between energy gels and jelly babies?
Energy gels, like Jelly babies, are full of carbohydrates that aim to aid recovery and give energy. Athletes and people with an active lifestyle use both. There's always a discussion online about which one is better.
Some people use Energy gels; some use Jelly babies or other sweets, and other use both. You will see different reasons. People have different experiences with both energy fuels.
Let's settle the discussion once and for all. Take a look at some of the similarities and differences below. Let's check what you get from Energy gels that are not in jelly babies and vice versa.
Energy gels
Jelly babies
Not as delicious as jelly babies
Expensive – price ranges between £1 – 26
A bit messy and sticky
It breaks down easily to useable energy.
With several vegan options
It takes 3-15 minutes to effect
Thick and not easy to swallow
Taste good
Cheap £2- 2.35 for a 165-gram pack
Easy to pop in your mouth
It breaks down easily to useable energy.
No vegan options
It takes up to 10 minutes to effect
Good texture and easy to eat
One of the main complaints in taking energy gel is the taste. But it has since improved and offers a wide variety of flavors. The texture was also improved, so there's no need for you to drink water after taking the gel.
There aren't many significant differences between energy gels and Jelly Babies. The decision on what to intake is personal. You can try both and decide which works for you.
How many Jelly babies' runners should eat?
You might think that you can eat a bag of jelly babies before your long run to prepare and give you enough energy. But it doesn't work that way. You have to take Jelly babies gradually. With the right timing and amount, you can replenish your body's lost energy.
The general rule is to take 30-60 grams of carbohydrates per hour. If you're a first-timer, you may need a higher amount of carbs, like 50-60 grams. Seasoned runners may take as little as 30 grams per hour.
You may also take energy drinks or fruit juices. It's another way to get your carbohydrates up. You can also have raisins, dates, and any other dried fruits. You need to know how much you need by heart to avoid taking it too much.
If you choose to take the gel instead of the beans, you have to be specific with the carbohydrate content.
If you take Jelly babies, each one contains 4 grams of carbohydrates. You need to take 10-15 jelly babies to replenish your lost carbs and have enough energy to continue.
You can always change the recommended amount. You have to find out how many Jelly babies give you the energy that you wanted. Again, you will find out all these during your training, and you can test and experiment with which works for you.