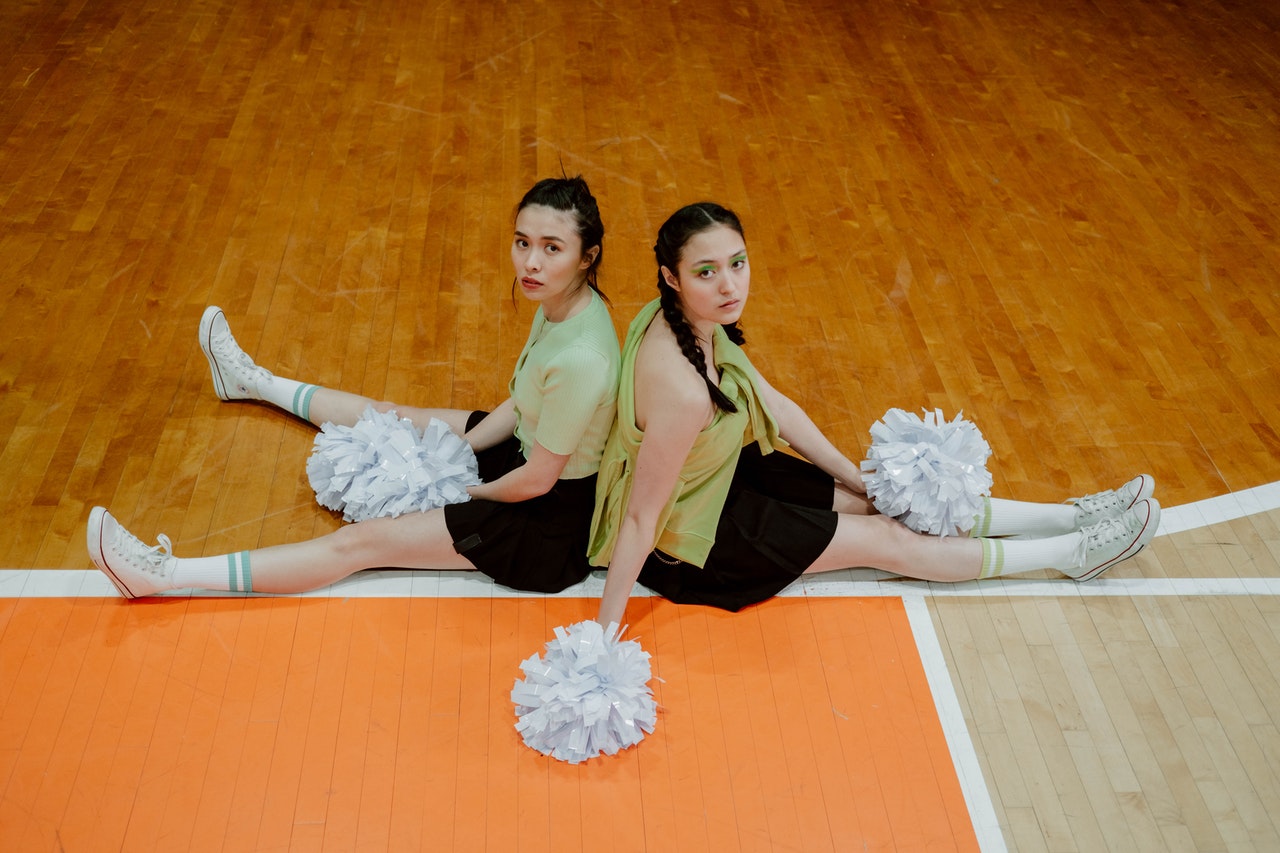 Cheerleading stunts are more striking and dramatic than ever before. The routine displays endless toss, tumblings, stunts, and cheers just to 'wow' the crowd. The sequences are created to be spectacular and extravagant. It is long hours of practice, hard work, and perseverance.
However, with all these climatic movements, cheerleading also becomes riskier. Even the basic toss and toe touch pose a severe injury when poorly executed. The International Cheer Union established rules to make the sport safe for everyone.
Organizations like the AACCA also have some grounding rules. The American Association of Cheerleading Coaches and Administrators sets safety rules. It is also being followed by plenty of schools and local organizations in the United States.
Of course, a plain disregard of these rules would increase the chances of one getting hurt. Even as simple as how you wear your nails when cheerleading can be a physical threat to other members.
Appearance may be necessary for cheerleaders, but there are guidelines one must follow. You cannot wear acrylic nails while cheerleading. Your nails should be kept at an appropriate length to avoid minor injuries in practice or the main event.
Are there rules in cheerleading?
Yes, there are rules to follow in cheerleading. As far as the safety of cheerleaders is concerned, one must strictly abide by the rules. It includes the proper wear of uniform, shoes, and even stunts demonstrations.
Here are the essential things you should follow as a professional cheerleader:
Practice

To become an excellent cheerleader, you should always follow all the practice schedules. There are mandatory workouts that you must do to keep you in shape. Practice and workouts allow you to memorize the sequence and deliver outstanding performance. As a professional cheerleader for NBA, you have to undergo extensive exercises. It is a regular normal routine for every dancer.

No eating of garlic

Cheerleaders are not allowed to eat garlic. It may have plenty of health benefits, but in cheerleading, garlic is banned. Since dancers cheer, shout, and use voice, the smell of garlic can be unpleasant. Some members would not appreciate the smell of garlic during practice.

Audition is endless

Even if you are a professional cheerleader for NBA, you have to audition for every game. It is not like being a part of cheerleading in colleges, where you have a dedicated team. If you want to keep going and make it a career, make auditioning your everyday life. It will also help you to enhance your craft if you continuously prepare for auditions. More importantly, you can select the team you want to support during auditions.

Always sticking to the routine

Cheerleaders are trained to keep on dancing even when there is a spectacle going on court. They have to stick to the routine and must not let themselves be interrupted. They have to keep going until finishing all the sequences. One thing cheerleaders always train for is for them to never stop on the court. It would be a help if you did not let yourself be disturbed when in the competition.

Do not change the appearance

The look is essential in this kind of sport. Always maintain a pleasant appearance in or out of the court. It would help if you learned proper grooming and how to take care of yourself well. Weight gaining is also crucial that might change how you look. Maintain a desirable weight for your body shape and structure. Always keep an eye on yourself, and be aware of the changes that can happen to your overall look.

Cheerleaders should follow the coaching plan

Another value cheerleaders must develop respect for authority. The success of the activity dramatically depends on the coach's plan. Dancers must stick to the plan and follow them religiously. The rules are also heavily included in the plan. It is vital to conform to the right process, so no violations happen during the game.

No tattoos or jewelry

Wearing any form of tattoo, as small as it is, is strictly prohibited. When you become a cheerleader, you must remove your tattoo if you ever have one. No matter how good you are as a dancer, you will not get the spot if you have a tattoo. Also, the jewelry should be removed when in the competition. It might cause tiny injuries to other members of the team.

Keeping in shape is important

Cheerleaders put a premium on appearances. It would be a help if you did not overeat or undereat when you become a dancer. You must be fit and healthy and at the desired weight. An optimum state of health also indicates that you can do stunts seamlessly and won't bother in the pyramid. Keeping in shape means doing your regular exercises and sticking to your diet. You have to make sacrifices, especially to be able to be in better shape.

Fingernails must be kept short

Another thing you should follow is keeping your fingernails short. It is avoiding cutting other cheerleaders when doing stunts. Also, you are not allowed to use acrylic nails in dances. Flashy nails are also not acceptable in cheerleading. It would be at best interest if you kept them plain and simple at all times.

Smile and eye contacts are important

Always practice smiling. Cheerleaders are trained to smile during competitions. You should also maintain eye contact with the judges to encourage them to watch you. Smile and eye contact are essential elements you should not miss to learn. In this way, you can communicate not just with the judges but also with the audience.
What qualities make a good cheerleader?
Being a good cheerleader means a lot of effort. You are not just the person who dances on the court, but also a leader, role model, and athlete. You have to develop certain skills and qualities to become a good cheerleader. You should be competitive, have the proper fitness, flexible, has an excellent voice, etc.
To become a good cheerleader, here are the essential qualities you have to earn:
Competitive

Cheerleaders are being exposed to different competitions. To be able to become a great one, you have to be ultra-competitive. You must possess a winning mindset so that you can execute your moves and routines excellently. Even in university cheerleading, you are going to compete with other teams. Thus, it is necessary to put to practice and hone your skills.

Fit

There are specific criteria that you should meet to become part of the team. Most of them will put fitness as an essential qualification for cheerleaders. It would be best if you remained an essential fit so you can execute routines astoundingly. Being fit means having strength, power, and endurance to meet the demands of the sport. Stunts, tosses, and jumps are never easy. It takes built and stamina to be able to deliver them effectively.

Skilled

Being a cheerleader is multi-faceted. You are not just an athlete but a role model, team player, and leader. You have to possess a variety of skills to succeed in this kind of sport. Flexibility is one skill that you have, plus excellent coordination. Dance skills are also required to become a cheerleader. You must know how to move sharply in doing your stunts and jumps. Having a good voice is equally crucial. Simple cheers and chants can be delivered excellently with a great voice.

Right appearance

The first thing cheerleaders have to learn is to take care of their appearances. The look is critical in cheerleading, so you have to put a premium on your physical state. You also have to follow specific rules like pulling your hair back neatly and not wearing any jewelry. It would be best if you were visually appealing to make the audience watch you on the court.

Great voice

Voice is another factor why you are considered to be a cheerleader. If you can use your voice as a capital, you can pass on the try-outs. Your voice is very crucial when communicating with the crowd. You have to speak vividly and loudly. It is essential to convey your message as clearly as possible.

Hardworking

Being a good cheerleader means showing up in every practice. Once you are enlisted as a dancer, you are required to attend practice all the time. Meaning, you have to allot time and energy in the gym or sports venue practicing with your teammates. You just do not put in the time, but hard work, as well. It is a critical trait that will help you succeed in cheerleading.

Motivated and focused

To meet the endless demands of this sport, you have to develop a great deal of motivation and focus. Without this, you might tend to quit in the middle of your practice. Cheerleading is a very demanding activity. It is also physically exhausting. If you lack the motivation and focus, you won't get to the line in the process.

Optimistic

Cheerleaders must display a cheerful vibe. After all, they are encouraging the audience to chant and cheer during the game. Being an optimist is one trait most dancers should develop, given the demands of the sport. It is easier to practice and work with a positive attitude in everything that you do.

Loves challenges

Cheerleading is a progressive sport. You will start as an amateur, then end up as an expert. As you go along, the basic movements that you learned from the beginning will be effortless for you. You would expect more complicated moves and stunts to measure your growth. Most cheerleaders are up for the difficulties and challenges they face. It keeps them from living a monotonous lifestyle. They want to break free from their comfort zones and improve their craft even more.

Fast learner

Aside from a demanding lifestyle, cheerleading is a fast-paced sport. You have to learn the sequences and routine at a speed rate. After which, you will be spending hours of practice to perfect the sequences. There you will showcase your techniques, confidence, and knowledge about the movements.

Cheerleading may seem fun and exciting kind of activity. However, despite all the glamour and entertainment you get are a set of rules to follow. It is not very easy to be a cheerleader; you have to conform to the rules for you to be part of the team.

Most organizations strictly implement the rules as minute and straightforward as they are. The regulations are there for a reason. It keeps all the cheerleading members safe during practice and the main event.

After all, doing complicated routines and stunts always poses a risk. It is essential to prevent these from happening. Even how you wear your nails and tidying your hair can be a safety concern for the entire team. And yes, you cannot wear acrylic while cheerleading.