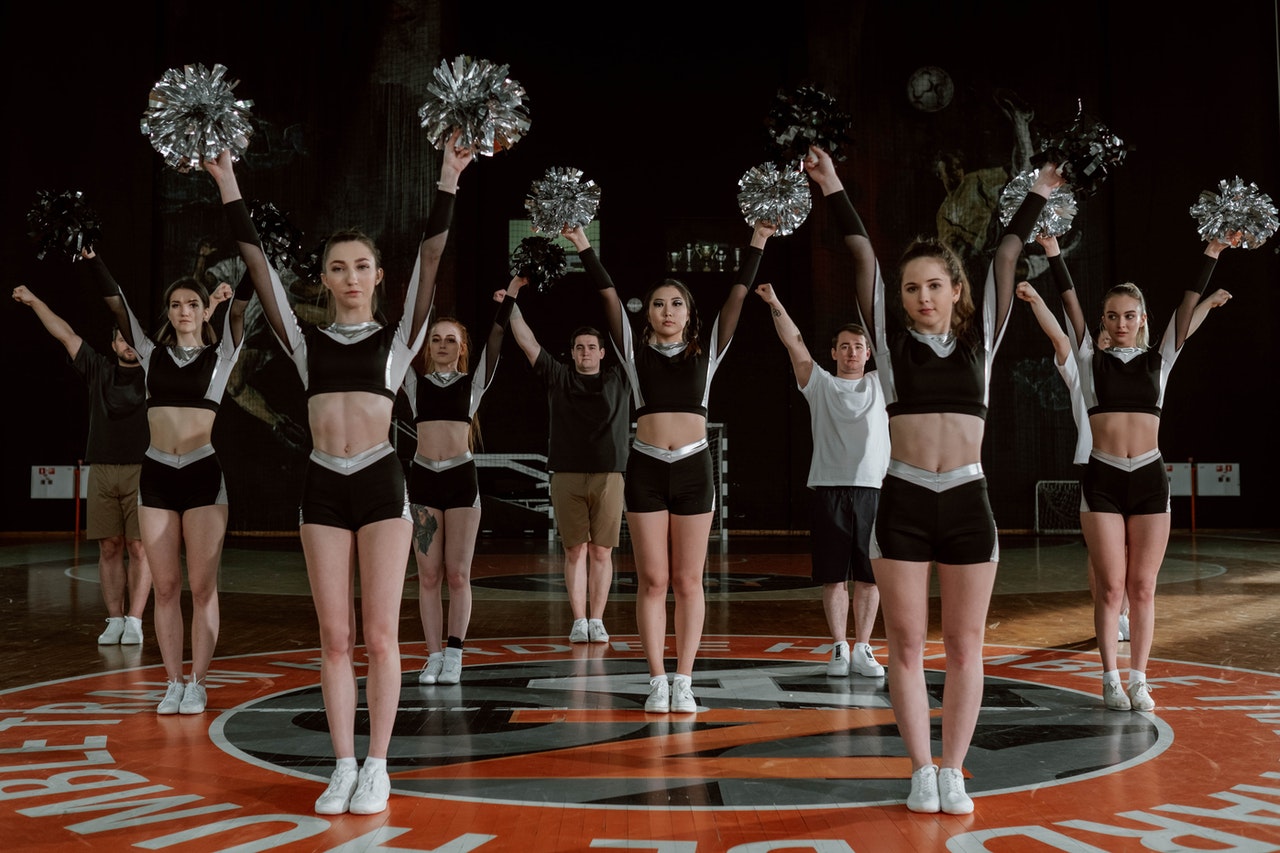 An average cheerleader has a height of 5'2 inches tall and below. For some, the height necessary to become a cheerleader is too short compared to other types of sport. Some would even prefer athletes with a height of 4'11, which is ideal for flyer positions.
Cheerleading as a sport has a reputation of enlisting more minor athletes. It is necessary to execute powerful and challenging stunts easier. The shorter a cheerleader is, the better the sequence and routine.
With the set of shorter dancers in every team, some wonder whether the sport makes them shorter. They would often ask if cheerleading harms one's body – making them shorter.
Yet, there is no scientific study that proves that cheerleading stunts growth. Also, there is a lack of evidence proving that the sport makes the athlete shorter in the long run.
Cheerleading, like other acrobatic sport, does not compromise the height of a person. Cheer does not make you shorter, even if you undergo intensive training. Like gymnastics, cheer does not attenuate the growth of a person's upper and lower legs.
Instead, cheerleading makes you more robust and flexible. As the sport combines elements of dance and gymnastics, your body becomes powerful. You can carry out more rigorous activities because of the training you get from cheer.
What are some facts and myths about cheerleading?
Aside from believing cheer can make you shorter, there are other misconceptions, too. As a well-recognized activity, you often hear about facts and myths about cheerleading. You may believe them in an instant or doubt the information before stating it as fact.
There are some facts and myths about cheerleading that you should know about. Some myths you often hear about are the height, hair color, and size of feet. It is critical to know more about these facts and myths to understand cheer better.
Here are several things you should know about cheerleading before trying out.
Cheerleaders are not tall

Most cheerleaders are short, but some go more than 5 feet and 2 inches tall. You can still be part of the squad even if you are taller than the average height.

Small feet is part of the requirements in cheer

No. Having big feet can still make you part of the squad. Tiny feet are not part of the requirements in cheerleading. So, you should not be discouraged trying out, even if you have a big shoe size.

Most cheerleaders are not smart

Some bad portrayals about cheerleaders in movies are they are not bright and A students. It is a myth. Most cheerleaders are average students who usually receive a 'B' grade point in class.

Most cheerleaders are blondes

Another common stereotype about cheerleaders is being blondes. Some cheerleaders do not have blonde hair color that can make it to the squad. Hair color is not a significant concern when trying out in cheerleading.

Cheerleading is always a popularity contest

It is a myth. Cheerleading is not a popularity contest. To be able to get to a squad, you should have skills and talents first. Most cheerleaders undergo a strict screening process before getting on the team. It takes them hours of practice and hard work to get in.

Cheerleading is dangerous

Yes. It is a fact. Cheerleading has risks and dangers that can hurt or harm a person. If you do not have proper body coordination, cheer is very dangerous. It is vital to develop the fundamental skills in cheerleading to avoid getting harm.
How does cheerleading affect your body?
Cheerleading can affect your body positively and negatively. It can make you more robust and more flexible, the same way that it can increase your risk of getting an injury.
It is a sport that can physically challenge your body, wherein you have to dedicate time to practice. It will exhaust you over time, especially if you do not plan your practice well.
Here are the things cheerleading do on your body and how it affects you in the long run:
Positive Impact
Enables your body to become more robust and flexible

The training you undergo in cheerleading makes you more flexible and more robust. Your whole body is subject to physical exercise, especially your arms and legs. The elements of dance and gymnastics combined enable your body to develop strength. You can also build stamina in cheerleading.

Enables your mind to become stronger

Your brain becomes sharper in cheerleading. You have to memorize steps, remember routines, and be in sync with the music during practice. The sport can also strengthen vital neural pathways making your brain stronger. As an elite sport, your brain develops mental toughness to adapt well to various changes. Your brain is more fine-tuned, enabling you to make fast and wise decisions. You also have better concentration, and your braid is more wide awake when you choose cheer as a sport.

Enables you to feel a sense of social connectedness

Cheerleading is more of a team sport than an individual sport. When you are in this type of sport, you can form a bond and create social connections. The social bond you create is an excellent way to relieve stress and motivate you better as a person.

A cheerleading team also tends to form a sense of being with a family. The team that you have in cheerleading can help you face life challenges. It is a good source of support system which you can develop through time. It is a healthy way to form social connections with a positive impact on your personal growth.
Negative impact
Risk of getting a severe physical injury

There will always be a risk of getting an injury and getting hurt in cheerleading. It is a sport that requires you to execute difficult stunts and complicated routines. You are most likely to suffer concussions, head trauma, and broken bones if you are not careful enough. The more challenging the stunts are, the more advance the skills, the higher the risk of getting an injury.

Physical exhaustion

Cheerleading is a demanding sport that requires you to dedicate time to practice. You have to exert more energy and strength in cheer compared to other sports. In a college cheer, the schedule can drain you physically. The sport has less off-season than others. You have to be in practice throughout the year. Cheerleaders spend the same amount of cardiovascular energy as running on a marathon. During the game, they spend almost six hours of their time without taking a break. It makes their body exhausted with a bit of amount of time to relax, especially in games. The fatigue most cheerleaders feel is harder side by side with the demand of the academe.

Challenge confidence and self-esteem

Cheerleading, most of the time, is all about appearance. Most cheerleaders engage in a rigorous diet to get in shape. They exhaust themselves in workouts to get the ideal weight and body structure. Body image is a significant issue among cheerleaders. It affects them quickly, especially when they are not in good shape. Also, they would feel more conscious about physical attributes compared to other sports.

They pay attention to beauty and how they look. The practice and training are brutal, when you cannot hit a particular skill. The approach of the coach can also challenge the mental state of a cheerleader. The negative messages they receive from coaches can also lead to negative self-talk. It has a lasting impact on their confidence and self-esteem.
Is cheer bad for your body?
Cheerleading is a risky activity. If you do not practice preventive measures, cheer may be bad for your body in the long run. You will get hurt and injured when in cheer.
Here are the common injuries you can get in cheerleading:
Ankle sprains

Ankle sprains usually happen when a cheerleader lands badly. It is one of the usual injuries you can get when in cheer. You can have a bad fall that can twist your ankle inwards. The most common part of your ankle that can have severe damages is the ligaments and bones. There are, of course, first aid treatments you can apply to relieve the pain. If you have a bad fall, you can treat the injured part with rest, ice, compression, and elevation (RICE). If it hurts severely, the dancer should immediately consult a physician.

Knee injuries

If a cheerleader lands badly from a high jump, she will get a knee injury most of the time. There will be a tear on the anterior cruciate ligament that can lead to knee pain and damage. When this happens, you can also apply the RICE treatment and consult a doctor when it perseveres. Another sign of damage is swollen knees and loss of feeling. You can also encounter tendonitis and Osgood-Schlatter disease from a bad jump.

Wrist injuries

Another part of your body that can get injured is the wrists. If you fall on an outstretched hand, you will be most likely to suffer wrist injuries. It can damage both the bones and the ligament. Having a bad fall with your hands outstretch is the common cause of wrists getting hurt. For first aid treatment, you can also apply the RICE method.

Low-back pain

Your spine is also prone to damage if you are not careful enough. You can suffer from Spondylolysis or fracture in the spine when you jump, tumble, and backbend. Other activities that can cause pain are walkovers and back handsprings. It is vital to note how long you are experiencing the pain, so you would know when to consult a doctor. To improve the state of your back, you can engage in physical therapy, as well.

Concussions and head injuries

If you hit your head on the gym floor, the most common injury you get is concussion or head trauma. A concussion can be a severe injury of the brain that can impede the usual function of your brain. It can be temporary or can be permanent if not treated right.

After a bad fall, a concussion can follow hours after you fall. You have to rest or even a long break from cheer if you have a severe concussion. It can lead to another more severe brain injury you can prevent if you subject yourself to a complete rest.

Catastrophic injuries

Routines and pyramids are not only complex but risky, as well. If a cheerleader falls from the top of the pyramid, a more severe injury awaits her. It is often called catastrophic injury due to lousy pyramid fall, wrong lift, and even basket toss. Some catastrophic injuries you might get are skull fractures, spine injuries, or paralysis. It is vital to always have a treatment plan in case of any severe injuries from cheer. It is also vital to take some rest once you suffer from any catastrophic injuries.