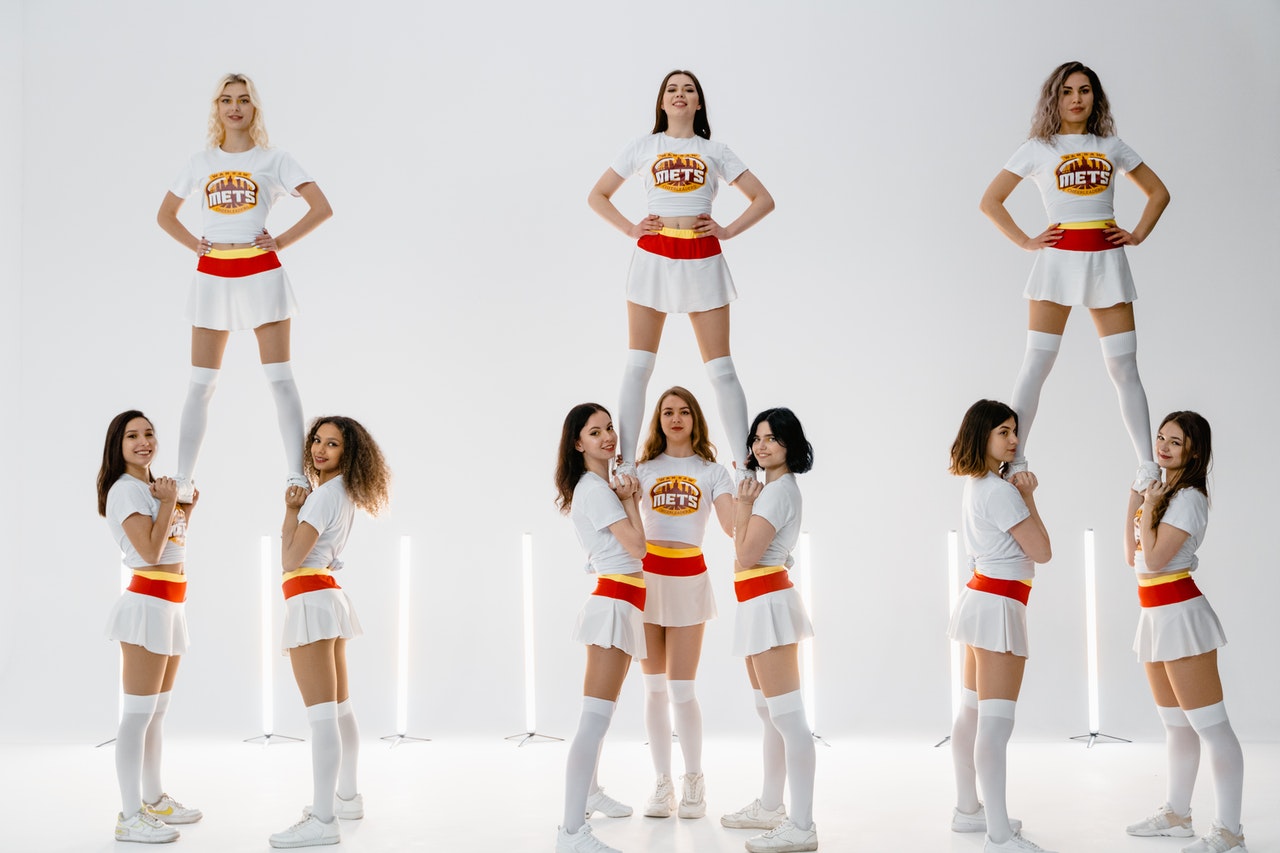 Cheerleading is a dynamic sport that requires intense energy and enthusiasm. It is physically demanding, needing you to spend hours of practice and workout. Many cheerleaders stay fit and in shape because of the intensity of activities the sport has.
Cheerleading involves tumbling, dance, jumps, and stunts. It is a full-body workout giving you an excellent opportunity to burn calories while having fun. A four-hour practice burns around 1,000 calories. Just a mere half an hour of standing will already burn you, 35 calorie counts.
The physical benefits you get in cheerleading are plenty. It keeps you fit and healthy and trains you in other areas, as well. It improves your sportsmanship, flexibility, strength, and endurance.
Cheerleading has great physical rewards, which you can enjoy in the long run. It also enhances your intra-personal relationships, social skills, and self-esteem. The sport is an excellent way to burn calories while improving other areas of your life.
Is cheerleading good exercise?
Yes, cheerleading is a perfect exercise. When you practice cheerleading, it involves your body moving and stay active. Your upper and lower body will be subject to intense physical exercise, which is a great way to keep you fit.
Here are the physical benefits of cheerleading to your physiological health:
Muscles

When you are subject to intensive physical training, your muscles will become stronger. Cheerleading is a great way to build muscles making them more efficient for everyday use.

Bones

Your bones will be more durable and solid when your start doing different routines.

They become stronger and more resistant to pressure and external impact.

You can stretch your bones well during stunts and other aerobic activities.

Joints

If your bones and joints are regularly moving, they will be more stable and adapted. It can accommodate different bodily movements and adjust to your weight quickly. Better joints also give you outstanding balance, as they can hold all your body's weight.

Movements

Practice and frequent working out develop your cheerleading technique. Practicing regularly makes every step and movement more precise and accurate. You can execute the routine flawlessly, and your body is well-coordinated. Cheerleading is an excellent activity to improve bodily coordination and achieve perfect balance.

Metabolism

As you under extensive body workout, your metabolism will significantly improve. Regular exercise maximizes the opportunity for your body can burn fat. It is also an ideal way to lose weight with optimized metabolism. Your metabolism rate is better compared to an average person.

Mental health

Exercise like cheerleading encourages more balanced hormones. You will notice that your mood lightens up upon going to intense fitness, and you become happier. It also increases your confidence and a better way to boost your mood.

Body shape

If you are looking for a fast and effective way to shape, cheerleading is a suitable activity for you. It promotes the overall tone of your muscles and gives you a better shape. When practicing, your entire body is moving and has the chance to shed some fat and burn more calories. It is a great way to shed off some fats and tone your muscles, as well.
How do you get in shape for cheerleading?
Cheerleading is all about appearance and hard work. Most cheerleaders put in the effort to be in better shape. They follow an intensive workout plan, commit to a diet, and practice religiously.
Every cheerleader you see works very hard to keep her body in shape and become fit. It is not an easy sport that does not require effort and commitment to become a better athlete.
Most cheerleaders take premium on the following to keep them in better shape and state of health:
Drinks plenty of water

Water is essential to keep you hydrated. Every cheerleader knows this fact. They always bring a water bottle with them to keep them fully hydrated during practice. Also, they wear suitable clothing in order not to suffocate them. The air should circulate well in their system, especially during intensive exercise.

Stretches regularly

To become a cheerleader, you must be flexible. Regular stretching improves flexibility in the long run. It helps you extend your range and motion, allowing you to execute more difficult stunts. Stretching is the key to why many cheerleaders are becoming more flexible. They always include stretches in their warm-up and even in the routine itself.

Simple exercises are vital

Mini exercises can go a long way. If you want to improve the physical state of your health and be in better shape, basic moves are essential. You should set a routine every morning at any hour available to you to do simple exercises. It can include jumping jacks and crunches. You can just allot a few minutes and commit to the routine religiously.

Eat healthy foods

Of course, the primary reason why cheerleaders are in better shape is the food they eat. Cheerleaders follow a strict diet plan to keep them healthy. If you want to be like them, you have to ditch chips and soda on your diet. It is also essential to include plenty of green leafy vegetables, fruits, and organic food.
What should I practice for cheerleading?
Cheerleading focuses on the accuracy of the movement of the body. To be a good cheerleader, you should practice your stunts, cheer, core, flexibility, and grip. These enable you to execute the routine smoothly and precisely.
Here are the things you should improve to become a great cheerleader:
Improve your stunts

No cheerleader cannot execute even a basic stunt. To be an excellent dancer, you have to give attention to practicing your stunts. You can exercise using a dumbbell and practice with your team for feedback. Remember, always take note of your posture and body positions when doing stunts. As long as your body is aligned correctly, you can create a more precise and smooth stunt.

Practice your core

Crunches are an excellent way to develop your core. But you can improve further if you lay flat on the floor and straighten your back entirely. Your back will be stretched out while keeping the alignment properly. You can do this regularly until you feel that your back is well-flatten on the floor. It means that you are already in the correct alignment and shape.

Enhance shoulder stability

Cheerleading requires you to have excellent stability. When doing complicated routines, you need to lift a member with your shoulders. It is essential to ensure that your shoulders are stable and robust. You can do planks, headstands, weights to improve your shoulder's stability.

Improve your grip

The grip is another factor that you should develop when cheerleading. Even during practice, you do extensive movements requiring the strength of your wrist. You should ensure that your grip remains soft and active without getting stiff or frozen. Bad grip means you cannot make more flexible and complicated moves in the routine.

Do more squats

To improve your flexibility on the lower back, squats are helpful. Doing squats regularly does not only lessen stiffness but also enhances your core. Your buttocks and lower back can build strength and power if you add weight to the exercise. Then, supplement your activity with arm positions, as well.

Technique and body coordination

Of course, the technique is not built in an instant. As you progress as a cheerleader, you will know your technique and put it in style when executing moves. Technique and coordination go hand in hand. They showcase how a cheerleader develops her signature style. It means that you are correct in sync with your every move. Your legs and arms are well-coordinated, as well as your head and smiles. Coordination means that you are focused on getting the audience's impact while moving. You know how to communicate with them while your whole body is busy executing the routine.

Build stamina

Having enough stamina means you can endure long hours of practice and training. Even when you are moving the whole day, stamina will keep you going. You just need some rest and continue with the work once your stamina is built correctly. To improve your stamina, you can do a HITT workout that can boost your performance.
What is a cheerleading diet?
Cheerleaders follow a specific diet to build muscles and strength. The diet plan should include lean protein, good fat, right carbs, among others. These promote healthy nutrition among cheerleaders.
Lean protein

It is essential to take protein when you are into high-intensity cheerleading activity. Protein helps rebuild and repair muscles among athletes. It helps you keep in shape while making your muscles full and toned. You can get good protein from chicken breast, white fish, tofu, and greek yogurt. Always include protein in your meal plan.

Good fat

Good fat or monounsaturated fats are essential in reducing bad cholesterol. Fats develop joint structure, repair membranes, and promote muscle growth. They are also easy to digest compared to protein and carbs. You can get good fat from salmon, avocados, almonds, and olive oil.

Carbohydrates

Carbohydrates are a good source of energy. Your daily diet must have 50-60% carbs. They are the fuel that enables you to move and execute complex routines. If you do not get enough carbs, you will feel tired and exhausted quickly. Carbs can be pasta, quinoa, potatoes, cereal, berries, and more.

Choose a whole food

Whole food or semi-processed food is loaded with vitamins, minerals, and nutrients. You can get it from fresh fruits, vegetables, whole grains, seeds, and nuts. As much as possible, restrain from eating processed food, and opt for whole food. Processed food creates a feeling of cravings for more food, which is not suitable for your health. Your mind will crave more sugar and carbs once you started with processed food.

Never miss the water

Of course, last but not the least for cheerleader's diet is water. Drinking plenty of water will keep you hydrated and fueled. You need to take 2.5 liters a day for optimal results. Your body should constantly be hydrated for best performance. If you fail to drink lots of water, you will feel dizziness, fatigue, and even muscle cramps.

Cheerleading is a dynamic sport that allows you to move every part of your body. In movement, you can burn calories keeping you fit and always in shape. Unlike an average person, a cheerleader burns more calories and requires better nutrition. It means you should get the proper nutrition to produce more energy in the process.

It is essential to keep yourself healthy and follow the proper nutrition as a cheerleader. May this guide help you with how you can enhance your health and always be in shape. By following this, you can become a better cheerleader in the long run. You will have enough energy while making complicated cheerleading moves.