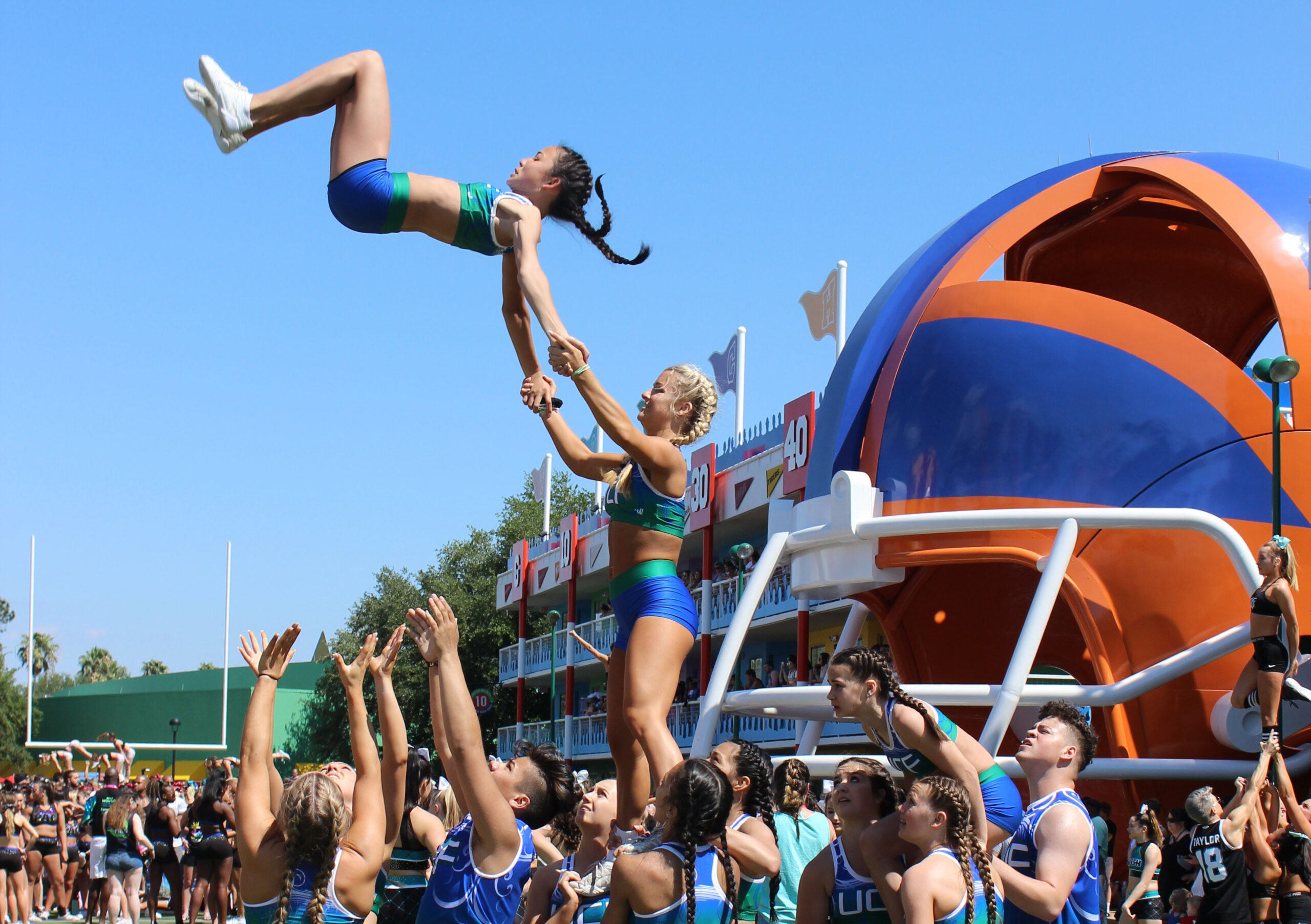 Being a flyer is one of the most rewarding positions for cheerleaders. The toss, turn and lift make the cheer thrilling and interesting. Flyers are the stars of the show and often the ones who communicate with the audience. They wear big smiles, exhibit confidence, and chant endlessly.
You would always see them on top and toss them in the air during a stunt. Flyers are the main focus of both the bases and spotter. They ensure that the formation is balanced so that the flyers won't fall.
A flyer, on one side, should keep her balance tight during the whole stunt. She should have complete control of her weight and movement to make the formation and stunt more steady. She also must maintain an ideal weight, so lifting and tossing are easier.
Once you become a flyer in cheerleading, you must have the proper weight, height, and strength. There may no be specific weight requirements to become a flyer. But it is ideal for maintaining a weight of 115lbs for most flyers. It makes the stunt easier where bases can lift and toss you without carrying too much weight.
Do flyers have to be skinny?
No, flyers do not necessarily have to be skinny. They just need to maintain a proper weight so that the routine can be a lot easier. Flyers should keep a specific body type for easy delivery of stunts. They must develop a lean frame in cheerleading.
There are specific exercises flyers do to keep their body in a desirable shape. If you plan to be a flyer, here are the kinds of workout you must engage in:
Cardiovascular Exercise

Flyers should maintain an ideal weight, and cardiovascular exercises help burn fat efficiently. This type of exercise increases the heart rate and rhythmic movements of the body. It results in toned muscles and better body shape. Some cardio exercises you can try are running and cycling. It regulates your blood flow and improves heart rate. A regular of five to six days of cardio will have a long-term positive effect on flyers.

Strength training

Being tossed and lifted is a huge deal. You should develop immense strength and flexibility to carry out powerful stunts.

You must have the capacity to control and support your weight during stunts, as well.

It will help your team members to lift you quickly without putting in the extra effort. As a flyer, you must have stable hips, back, and abs.
The strength you have can help maintain your body position steadily during stunts. You can also execute explosive jumps that require an immense deal of strength and power. Jumping ropes is a good form of strength training. It can enhance your cardiovascular and leg strength, as well. You can also add to your strength training squats while holding a barbell. Squats, on the other side, are great for developing your lower body strength.
Balance Exercises

One of the essential things you should develop as a flyer is balance. Your routine and stunts are highly dependent on how excellent your balance is. As you are often lifted and stand on the hand or shoulder of bases, your balance must be at par. Once you execute a pyramid, a flyer will generally stand on the shoulders of bases with one leg. The formation will be destroyed if the flyer has poor balance.

If you want to improve your balance, you can always practice one-legged poses. You can also try heel stretch, scorpion, and liberty while using a stability disk. If you lack the stability disk, you can use your bed to support you while doing one-legged poses. These exercises can significantly enhance your balance and power up your ankle, too.

Flexibility Exercises
If you want the flyer position in cheer, you should exhibit stellar body flexibility as you will perform acrobatics while in the air; it is vital that you can stretch your body easily. There are several flexibility exercises that you can consider. Yoga is excellent for enhancing your flexibility.
You can do asanas such as the dancer's pose. It is similar to the scorpion pose of cheerleading. In this way, you can execute complicated poses while maintaining your balance when lifted. Other asanas you can try are the standing split pose and standing hand-to-big toe pose.
What makes a good flyer in cheerleading?
The flyer is a crucial position in cheerleading. You have the responsibility to wow the crowd and communicate to the audience. A good flyer must display outstanding body awareness, control, and balance. These elements are essential to delivering successful stunts.
Body Awareness

A flyer must have body awareness, especially when executing difficult stunts. She must know how well her body works and function in every move and stunt. A good sense of your body means knowing your feet' width and length should make a particular move. You should know the correct alignment of your back, how high you lift your foot, and how much you can extend your arms. It is full-body coordination where you are more focused on the movement of every part of your body.

Control

Control is another skill and technique every flyer should master. You have complete control of your weight, movements, and balance. Control also helps other dancers, especially the bases, when lifting you for a stunt. Controlling the weight of your body and holding it up is very helpful in cheer. If you are on top of the pyramid, you can control your body by pulling abdominal muscles in, and squeezing butt, too. When releasing from a stunt, you need to keep your body tight and control your weight to lessen the burden of bases.

Balance

The success of a stunt highly depends on the balance of the flyer. The flyer must have a good balance so that she can hold the position steadily. Balance means your body is enormously adaptive to the shifting and movement of the bases. You can balance your weight, especially when you are doing a one-legged stunt position. Balance is also essential when you are just standing with one leg on the hands of the base. You should master your balance if you want to be a good flyer.

Flexibility

Acrobatic air stunt requires a great deal of flexibility. If you audition for a flyer position, you must display exceptional flexibility. You can improve your flexibility by doing stretching exercises like yoga. It is also helpful to enhance your core strength while leveling up your flexibility.
Is being a flyer in cheerleading dangerous?
Cheerleading, in general, is a dangerous sport. Any position in cheer can be risky. However, the flyer position is riskier due to the tossing, lifting, and acrobats done in the air. Stunts can put flyers and bases at risk for head concussions and fractures too.
Doing challenging stunts is serious and corresponds to unforeseen injuries. If the dancers are not well-prepared or did not practice well, they might get hurt doing the routine.
Based on studies, cheerleading is one of the most dangerous sports for girls. The injuries you can get from cheerleading are more server compared to football. There major catastrophic injuries recorded caused by cheerleading that playing football.
Here are some of the injuries that are commonly associated with cheerleading:
Concussions

Concussions are mild traumatic injuries that are often related to cheerleading. They account for approximately one-third of cheer-related injuries in the United States. Concussions can be caused by falling during stunts and then hitting the flyers on the ground.

Not only the flyers can sustain the blow of falling, but also the bases. Bases are prone to head injuries where they can be elbowed or kicked by flyers.

Ligament sprains

Acrobatic movements like jumping, landing, or pivoting can cause ligaments sprains among dancers. It is one of the most common injuries that you can get from the sport. You can have ankle sprains from the stunt, mainly when practicing on an uneven area. You can apply the RICE treatment to lessen the swelling of your ankle. Knee injury is also common among cheerleaders. You can call it the jumper's knee syndrome, where you feel soreness and stiffness of the front knee. You can also experience the same sensation around the kneecap.

Muscle strains

Muscle strains are also associated with cheerleading. They are the overstretching and tear of the muscle due to stress from moving abruptly. You will undoubtedly experience muscle strain when you frequently scurry. The explosive jumps and stunts you do as flyers can also cause strain.

Other movements are jumps, twists, splits, and stretching.

You can experience muscle strain on the lower back, hip, and even groin. To prevent this, you must have a proper warm-up and body conditioning.

Fractures

Fractures are also related to cheerleading injuries. Some fractures are easy to heal, while others will take time and require casting and even braces. You can also undergo bone growth stimulation therapy when you acquire fractures. Here are other forms of fractures that you might get from cheerleading:
Ankle – it is due to unbalanced landing from a jump, stunt, and toss. Bad falling can lead to a broken bone or hairline bone fracture.
Back fractures – when you fall onto your back badly, it can cause you to have back fractures. A severe fall can break your vertebrae that eventually damage your spine. There are severe back fractures needing surgery and can compromise your flexibility. As a result, it will limit your body from performing complex acrobatic moves.
Stress fractures – it is a minor fracture due to wrong landing, dancing, and stomping. Your bones can be too stretched carrying out tricky stunts.
Hand and wrist fractures – these fractures are associated with tumblings and handsprings. Your hands and wrists can feel too much stress that they cannot accommodate.
Wrist and elbow injuries
Another physical injury that you can have is related to elbows and wrists. When you do tumblings and became off-balance, your wrists and elbow may be compromised.
Some injuries you can get are wrist fractures, sprains, and tears. When you feel elbow pain and weakness, it can be an indication of a ligament sprain.
Cheerleading flyers may be one of the most dreamt positions in cheer. To become one, you must develop some skillsets especially balance, flexibility, and control. It is also vital that you are within the ideal weight range, so your team can lift and toss you easily.
Becoming a flyer is hard work. You have specific training and exercises to follow to be able to better your technique. Once you achieve this, you are now well-prepared for more challenging stunts in the future. In this way, you won't compromise your health and pose a risk to other team members.