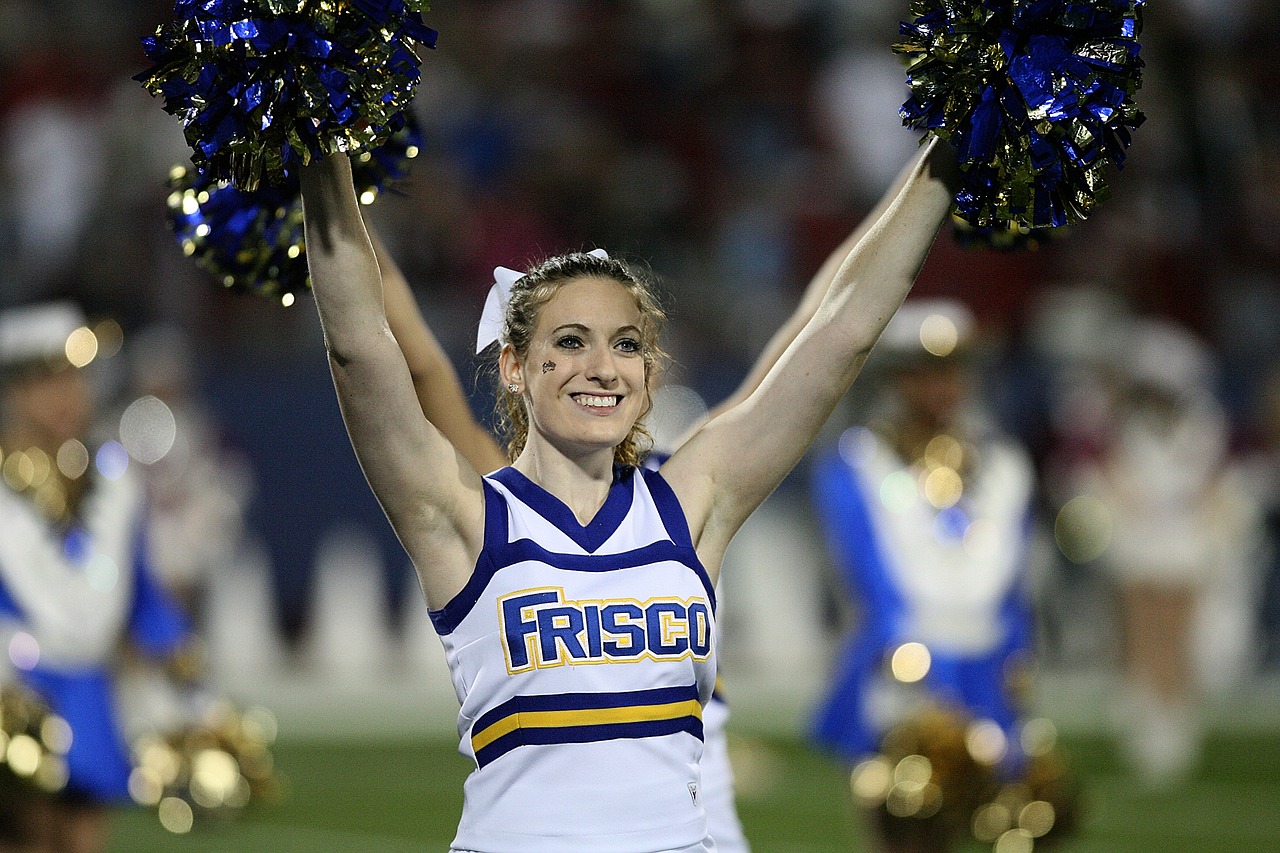 Some people do get enthusiastic when trying out something new. The thought of learning a new skill or starting a hobby is a pleasurable and exciting experience. You feel fresh, and your optimism gets high upon going beyond your routine.
Yet, activities like those requiring physical power are easy to learn at a young age. The young ones can enjoy the benefits of their youth when learning a challenging sport. Your body is at the most favorable, and your mind can master a new skill at a faster rate.
In cheerleading, how old is too old for you?
Cheer is a very demanding activity requiring strength, flexibility, and power. You cannot develop these things overnight. It requires you to undergo intensive training, long hours of practice, and perseverance. Starting to learn cheerleading is ideal when you are so much younger.
Most girls would usually begin cheerleading at the age of five or seven. In this way, they can train their body to be as flexible and elastic at a very young age. Yet, you can still start cheerleading even if you already passed this age.
It is never too late to start cheerleading, even when you are in your later years. You are not too old for cheerleading, given that you undergo the proper training and commit to the sport.
What is the best age to start cheerleading?
The best age to start cheerleading is at the age of five to seven. These are the ages children can develop flexibility and elasticity at a faster pace. Their energy is at its peak, and their physical capability is favorable.
Yet, most girls learn the sport during their teen years in high school. They try out for cheer at the age of 13. You would often see beginner cheerleaders who are in their teenage years.
By this time, girls would progress to different levels depending on their skills. Based on the International Cheer Union (ICU), cheerleading has level classifications. Depending on your skill set, you can range from Level 0 to Level 6. The former is the beginner level, while Level 6 is the expert.
As the level progresses, a more advanced skill set is necessary. You will learn more challenging stunts, tumbling, tosses and pyramids at different levels.
Level 0

Level 0 is the beginner's level. For those who aspire to become a cheerleader, they will all start at this level. The stunts in this level are essential and at waist level. You cannot execute the tosses and cradles at the level, as well.

When you start at this level, you should pay attention to honing your basic skills. It would help if you built a strong foundation of body strength and flexibility.

For tumblings, you can first conduct forward rolls, backward rolls, and cartwheels. Then, upon mastery of these skills, you can now advance to a higher level.

Level 1

Once you have learned the basics of cheerleading, you are now ready to level 1. At this point, you already have a strong foundation of body strength and flexibility. You can now perform all stunts at a base' shoulder level. Also, you can even perform a one-legged stunt at level 1. Yet, a bracer on the ground is essential when you are at this level.

Level 1 allows basic tumbling skills and physical contact to the floor as support. You are free to do forward and backward rolls, cartwheels, round-offs, and walkovers.

Yet, level 1 still does not allow tossing during the routine. The team is not permitted to toss flyers up to the air. It would help if you had a more solid skillset for tossing. Yet, some would perform a straight cradle, as well.

Pyramids are also permitted with some extension stunts. At the level, you can lift the flyers in the arms of the extended bases.

Level 2

As you progress, more challenging stunts are also permitted to perform. At this level, you can now perform two-legged extension stunts, cradles, and liberty. The routine is more complicated with half twisting and transition stunts, as well. Also, you can see the team mounting their flyers like handstands or walkovers.

The stunts at level 2 are complex with handsprings and roundoff back handsprings. The basket tosses are part of level 2. They can only perform a straight ride basket toss, which is the most basic. For pyramids, the extended one-legged stunt is also part of the counts. The routine and sequences at level 2 are getting more exciting.

Level 3

Of course, as the level progresses, the stunts are fascinating and impressive. At this point, you see extended liberties, full-twisting stunts, and a complicated cradle. At level 3, a cradle with a single supplementary twist is very noticeable.

You can see other skills are tic tocs, wherein the flyers perform leg switches in a stunt. Switch-ups are also very visible where the flyer switches legs and going up to perform a stunt.

You can see the tumbling series ending with a tuck for an impactful performance. The back handspring series is as impressive as well. The combination of tumblings and back handspring is often the highlight of level 3.

Basket tosses are at level, wherein the flyer can perform tricks like toe touch and pike in the toss. It helps that you can perform pyramids at this level. Dancers incorporate inversions and extension stunts.

Level 4

If you reached level 4 cheerleading, you mastered all the foundational skills. Even advanced skills like tic tocs, switch-ups, and extensions are well-learned. You can observe double-twisting cradles coming from two-legged stunts. Also, transitions like single twisting cradles from a one-legged stunt are very observable.

The tumbling passes at level 4 is challenging, too. Most passes will end in layouts where the dancer executes flip. The team also delivers standing back tuck or even back handspring followed by a tuck.

The basket tosses are also thrilling. The flyer can execute two tricks like single kick and double-twisting tosses. Pyramids at level 4 are fascinating. There are flyers everywhere performing tricks and stunts. They seem to be flying, showcasing impressive skills like inversions. This level, likewise, required high advanced skills and stunts mastery.

Level 5

Reaching this level in cheerleading is rewarding. It means you dedicated years of training and practice to perfect your skills. You have the mastery of moves where you deliver double twists, inversions, and tic tocs well.

The audience will expect to watch more expert-level skills in a routine. It combines flair, complexities, and sharpness in every move. A double twist will polish most stunts to cradle, then from single-legged stunts.

The tumbling passes are very challenging, where it usually ends with a layout. It would help if you also watched the basket tosses to see three different tricks of flyers. It can include kick doubles where a flyer will kick in the air while twisting.

Pyramids are fascinating with the dynamism of movement, coupled with release inversions. Some teams would also incorporate twisting and changing of bases.

Level 6

The last but the ultimate goal of every cheerleader is level 6. It is a more extreme version of level 5 with plenty of flipping mounts and air stunts. In this level, you often see rewinds along with a back handspring or the reverse. You can go on round off then going to rewind.

Based on the ICU, level 6 is very similar the level 5, wherein the tumbling sequences end in a single full. The flipping tosses is the most highlighted act in level 6.

Such tosses include tucks, Arabians, x-outs, among others. Other advanced tosses are the fly-away tosses, too.

Pyramids in level 6 are also a bit intense. There are 2 ½ high structures where flyers are lifting another flyer.

This routine is high-level, requiring mastery of all the basic movements in cheer.

The free flips and twists while dismounting a pyramid are pretty extraordinaire.
Is it too late to be a cheerleader?
No, it is never too late to be a cheerleader. As long as your body can accommodate the demands of the sport, you can still train as a cheerleader. With the right training, dedication, and commitment to the sport, it is possible.
Yet, you should be aware of teams that have specific age requirements to become one. If you are trying out for all-star, you should be patient in finding the team that can accept you. You must have a primary background in the sport to get in fast. So, before auditioning, learn the basic moves, take practice lessons, and prepare well.
In this way, you can start at Level 0 and progresses as you build more skills and gain mastery of movement. Here are the things you should do to become a cheerleader:
Improve your fitness and stamina

The first step coaches will look for is your fitness and stamina. If you are in good physiological shape and have built stamina, you can also pass as a cheerleader. To develop these two, you need to dedicate time to training and lessons. You can seek professional help to make things faster for you.

Do things with confidence

Even if you are a latecomer, you can be part of a cheer team if you exude confidence. Confidence and determination are essential, especially when starting late in cheerleading. Put on some willpower, as well, so the coaches will take notice of you.

Master your stunts and movements

Always commit to better yourself in cheerleading. Meaning, once you developed a skill, you have to develop it and master every move. Even when you start late, you can work side by side with the experts if you took the time to practice. Ensure that you master all the basic moves and earn new skills and stunts as possible.
Who is the oldest cheerleader?
Laura Vikmanis is now the oldest cheerleader in the NFL. She is 42 and more than two decades older than her fellow cheerleaders in the NFL. She is part of the Cincinnati Ben-Gals.
Even before her cheerleading career, she is active in fitness and nutrition. She served as a dietitian and personal trainer for Nutrition and Wellness Specialists. Then, in 2009 when she was 39, she was able to try out to be part of a squad.
She is famous and recognized and made some TV appearances and talk shows as a cheerleader. She also wrote a book entitled It's Not About the Pom-Poms, where she talks about cheer as a career.
Cheerleading may be a demanding sport ideal for young ones, but it is still a sport anyone can learn. Even when you are older, and you decided late to try out, there is still a chance that you can get in. As long as you show proper attitude, willpower, and determination, it is never too late to be a cheerleader.