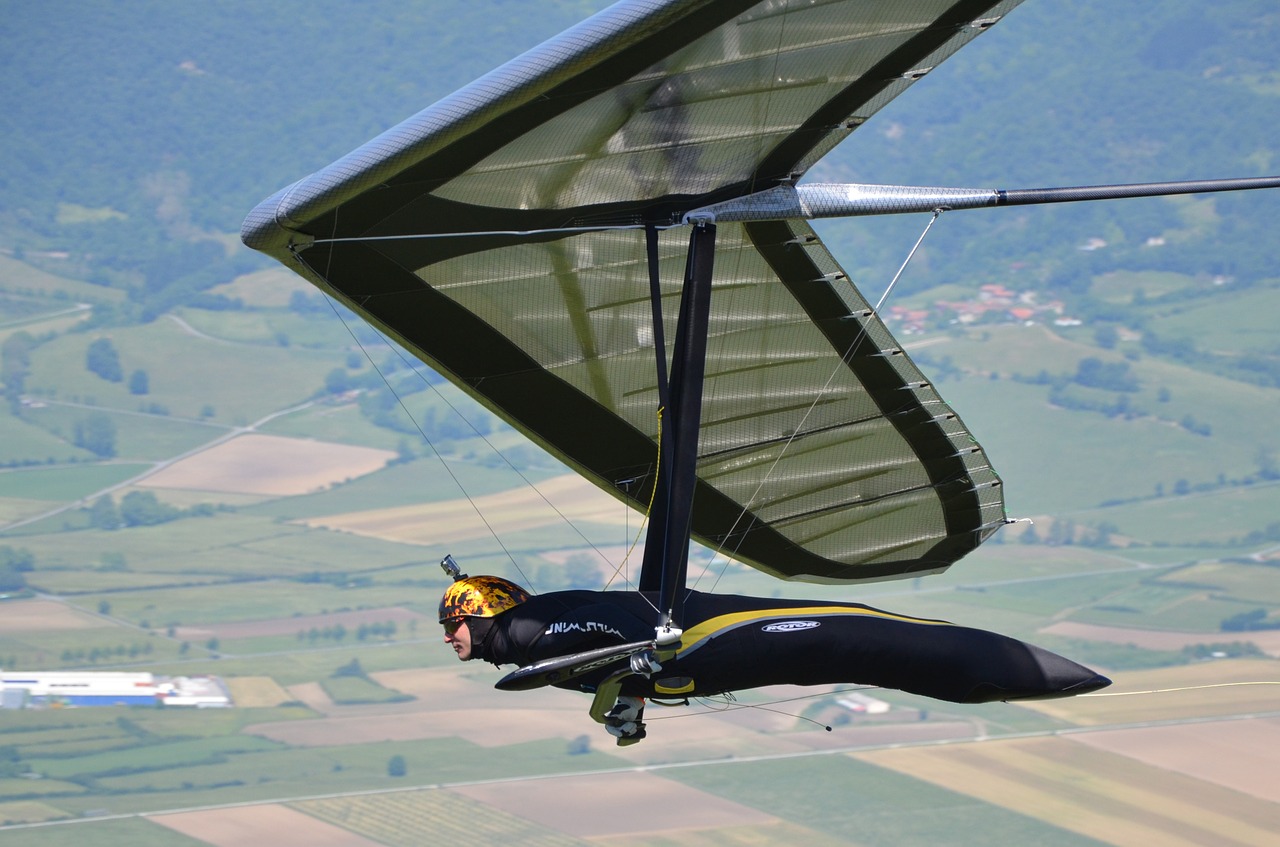 Hang gliding is an air sport, has been a popular recreational activity for people seeking fun and who want to get their adrenaline pumping. And like most adventure sports, hang-gliding also has a weight limit.
Aside from ensuring that the riders are safe, the weight the limit also depends on the available equipment to match the rider's weight and make the ride easy and manageable. If you are trying hang-gliding for the first time, you can go to hang-gliding sites near you.
You will be paired up with pilots typically for tandem gliding, and it will be a unique and safe experience.
Unfortunately, you can't find gliding sites anywhere. Most of the time, you will find these adventure companies in places with great views for a much better appreciation of the activity.
There are several top hang-gliding destinations all over the world. Some of them are in Rio de Janeiro in Brazil, Interlaken District in Switzerland, Kitty Hawk, North Carolina in the US, and Queenstown in New Zealand.
You are lucky enough if there is a hang-gliding site in your country, most especially in your city. Since there are places where hang gliding is not allowed, and in some, it is banned.
So, if you want to try hang-gliding but have no options in your country, you need to fly to some of these destinations to experience gliding; that also means that you have to make sure you meet all the requirements to avoid wasting your trip.
Here's a more detailed weight limit, additional information, and restrictions that you need to know before going on a hang-gliding trip.
What is the maximum weight for hang gliding?
Hang gliding has a general maximum weight limit of 100kg for each glider; some allow up to 110 kg depending on the weather condition. It's a safe limit that includes the weight of your parachute. They build the gliders in almost the same way, and they design the straps accordingly.
Hang gliders have a different weight capacity. It depends on the material, model, and type. Naturally, new and modern gliders can carry a bit more.
If you plan to try hang-gliding, you need to know the basic requirements to make your experience fun and safe until you land.
You might think that a few kilograms won't hurt, but the limit is not stretchable. It is a strict rule, and in some places, it is a regulation.
There are some instances where people buy a ticket and give it a gift to someone thinking that 102kg is not a big difference from the limit. Still, they would usually not be allowed to do the activity and suggested doing paragliding instead.
Lucky for you if there are still similar activities that you can try instead of paragliding. So, to save you or your loved ones from disappointment and embarrassment, always remember that the weight limit is non-negotiable.
Here's a list of some of the top hang-gliding sites and
their weight limit for hang gliding:
Kitty Hawk in the US – 225 lbs (102 kg)
Bumblebee Interlaken District, Switzerland – 200 lbs (90 kg)
Coronet Peak in Queenstown, New Zealand – 200 lbs (90kg)
Torrey Pines Hang Gliding in California 180 lbs (80kg)
Lake Garda in Italy – 100 kg
As you see from the examples above, the weight limit varies per location; it is best to know the exact limit by checking the website of your hang-gliding destination or by calling them before purchasing.
How Heavy are hang gliders?
Before taking off, it would help if you carried some of your hang glider's weight as you accelerate. You're probably wondering how heavy it is and if it is easy to manage. A
typical glider weighs between 20-40 kilograms.
The total weight of the glider consists of its frame, the wing cable, and sail. Hang gliders usually use a polyester cloth for the sail and metal or alloy airframe. Let's compare hang gliders made in the 90s to ones made in the 2000s.
Have you heard of TRX? It was made in 1991 by UP Ultralight Products. Size 140 weighs 30 kg, and size 160 weighs 32 kg, made of a Carbon fiber frame. They created this glider 30 years ago. Let's look at some new model gliders.
Malibu 2 166 weighs 23 kgs. It uses in Dacron sailcloth, and they used aluminum tubing. It was released last 2010. With 20 years of difference, newer models are made lighter.
They improve the weight and total design of gliders to make it easier for those who are doing solo flying easy to carry when traveling.
Solo flyers are getting more adventurous and would always like to try and upgrade their experiences. Some would go to the mountains that would require them to pack the glider to fit in the vehicle.
Others would even bring it to further places that would require them to ride a plane which means that a more compact and lighter glider would be ideal.
How fast do hang gliders go?
The glider's speed lies on many different factors; hang gliders have a usual speed range of 15-70 mph.
As years go by, glider manufacturers have improved the overall specification based on the problems and demands they have encountered. If you are keen to try hang-gliding as a sport, you will learn ways and techniques to use your weight in speeding up and slowing down.
You can control how fast or slow they want the glider to go. If you are holding the glider, you may lower the glider's nose to make it go quicker and raise the glider's nose to make it go slower.
The pilot's weight does not significantly affect the glider's speed; instead, positioning of the body helps control the glider and finding its center of gravity. You can see some examples below with different models and their designed maximum speed.
The first one is Litesport, with a maximum speed of 60 mph. Another one is the Gecko which can fly up to 56 mph. There's also Laminar with a maximum speed of 74 mph. Lastly, we have combat 2 with a top speed of 21-22 mph.
The speed range of hang gliders continues to widen as new technology progresses, and manufacturers innovate and improve their design and products.
Most hang-gliding activities all around the world are pretty chill. The pilots want the riders to experience flying and appreciate the beautiful views.
It is safe to say that only Solo gliders are seeking thrill while flying will put the time into choosing faster gliders.
Hang gliding competitions do not include racing; it's typically spot landing and the longest to stay airborne. Thus, speed is not the most significant factor when choosing your glider.
No matter how fast or slow you fly your glider as a pilot in command, it would be best if you made decisions with safety measures.
How big is a hang glider?
Gliders come in many different sizes. It differs based on the material that they use. Hang -glider's size usually ranges from 60kg to 900kg.
You can also see power gliders made to give comfort to the rider. Naturally, these improved gliders will be more prominent.
For instance, a single-seater like Rupper-Composite Archaeopteryx weighs 51 kg (119 lbs) for its standard version. It has a height of 2.9 meters (9.6 ft) and is 5.7 meters long.
Another example is the SZD-59-1 ACRO, made from glass fiber composites, weighs 270 kg, and is 6.85 meters long.
These two single-seater gliders have a big difference in their empty weight mass but are still within the standard range.
The same goes with two-seater gliders; the SZD-59-1 ACRO weighs 380 kg (838 lbs), is 8.18 meters long, and is 1.55 meters tall. It is safe to say that two-seater gliders are heavier.
You can choose numerous hang gliders; you can base it according to the kind of design you want, material, and budget you have.
Is there a time limit in hang gliding?
Gliders don't need any motivation to keep it running. Thus, it can continue to fly as long as lift' available. There is no limit to stay airborne, especially when you are a solo glider.
For thermals, the glider can stay up to 8 hours. The world's longest hang-gliding flight lasted for nine and a half hours. It was a man from California who flew above Owens Valley.
You can only decide when you are flying solo and is the pilot on command. You choose your own time and how long you want to hang glide as long as you consider the weather condition.
But if you're only doing hang-gliding through sites and adventure companies, you will have a time set for your hang-gliding activity, primarily when they cater to many customers.
Again, this timeframe varies per hang gliding or adventure company. Most of the time, you will have enough time to get excited, appreciate the view and chill a little bit.
The morning side from New Hampshire offers a 10-30-minute duration for hang gliding. In Green Dragons Sports Center. Southern cross gliding club in Australia hang gliding lasts for about 20 minutes.
If you fell in love with the sport and are adventurous enough to do it solo, you can stay airborne as long as you want and explore more beautiful places on your own.
You don't need to worry about restrictions. But it would be best to be still mindful of it because they're there for a reason.
Are there any other limitations to hang glide?
Aside from the strict implementation of the weight limit, there are also other restrictions that you need to remember.
If there's a weight limit, there is also an age limit. To fly in tandem, you must be at least 10 or 12 years old and above. The minimum age limit varies per company. Some would allow 14 years old to be the pilot in command.
This reason is more of a mental requirement than a physical one. Companies want to make sure that the person in command is mature enough to make decisions.
Kids of this age can also control their emotions better, so there will be no panic attacks, screaming, and even excessive movement when flying.
There is no specific height restriction for someone to fly, but it depends on the availability of the equipment since gliders are usually between 5 to 6.5 tall. If you are taller than the equipment, some modifications might be needed to secure the harness.
Hang gliding, in general, is not physically demanding; anyone can fly in both tandem and solo as long as they don't have any severe illness.
Although, when you want to do it as your hobby or as a sport, it would be easier to fly and will give you more confidence if you are physically fit.
Hang gliding sites would mainly allow people with special needs but require a doctor's certificate to make sure they can handle the pressure and emotions while flying. This rule will assure the safety of both the pilot and the passenger.
Overall, hang gliding, just like any adventure sport, will always have its restriction no matter where you are in the world. Whether you are flying solo or in tandem, you have to follow these reminders to do the sport with precaution and safety.
Danger can happen anytime, especially that you are doing an adventure sport. It will test your limits not just physically but also mentally and emotionally.
Put safety measures on top of your priority list, and you can continue to explore hang-gliding adventures and experiences as long as you. Make reading a habit when you check for information in any adventure activity guidelines.