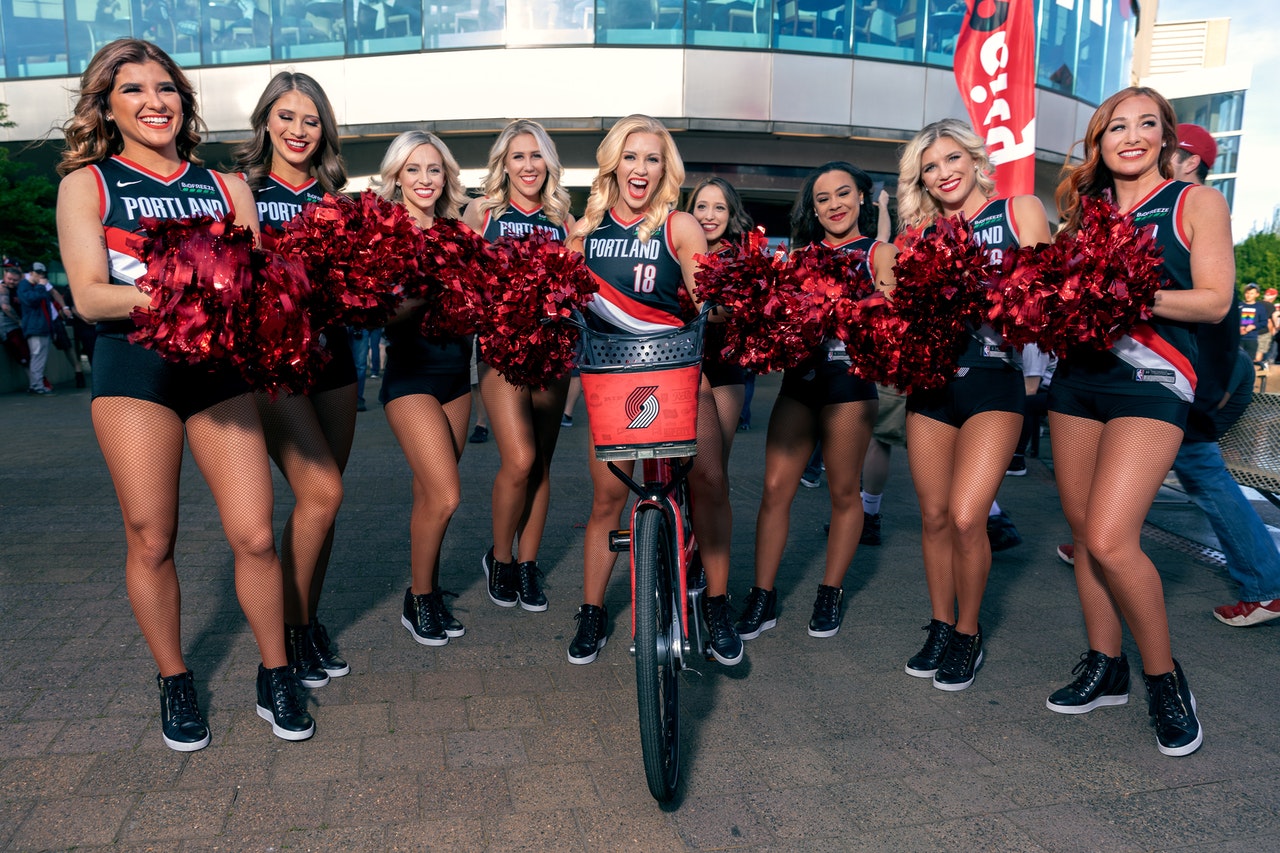 Cheerleading is an activity where people cheer for their sports team. It can vary from intense physical activities and stunts to catchy chants and slogans.
Cheerleaders perform to motivate their respective teams or to entertain the audience.
Cheerleaders help spread and promote school pride and spirit during school events. Cheerleaders hold pep rallies. But they also help design banners and decorate the hallways to show support for the sports team.
A team's routine usually contains several dances, jumps, tumbling, stunts, and cheers. They also wear colorful uniforms, which sets them apart from the rest of the students.
The performers wear these outfits during games, competitions, and other events. The uniforms include the official colors and logo of the team or school they are cheering for.
Cheerleading started in the United States, and as such, it forms a big part of the country's culture. There are 3.85 million cheerleaders as of 2017. Thousands of cheerleading uniforms are also produced daily. Meanwhile, many former cheerleaders are clueless on what to do with it.
You might be one of those who have no idea what to do with their old cheerleading uniforms. You can either donate your old uniform, throw it away to save space, or make something useful out of it.
Like many other cheerleaders, you may feel attached to your old cheer uniform. So, it's not easy to throw away years of hard work and countless memories into the trash. Donating it to a close junior or friend who can use it is also a good option.
But if you still don't want to separate from it, you can keep them with you. You can use them as decorations around your house or use them as fun party costumes and even bags out of them.
You can use your old cheerleading uniform by making various DIYs like quilts and pillows. You can even make tote bags featuring your old uniform's logo and even shadow boxes. But, if you aren't the crafty type, you can always donate to people who need it.
You can even transform your old cheer skirts into a different style. You can do this by using its fabric from the original skirt and cutting it into various designs.
Do you get to keep your cheer uniform?
Cheerleading uniforms are a crucial component of the entire cheerleading experience. Cheerleaders wear their uniforms at school games and during important occasions.
Cheerleading uniforms aren't cheap. This is because they have to consist up of durable and quality fabric. This is to make it long-lasting and comfortable for the athletes who wear them.
Most cheer uniforms consist of polyester-blend fabric with a small amount of spandex. Competitive cheering clothes use a gleaming foiled coated stretch fabric.
These uniforms should only be comfortable but also looks pleasing to the eyes. As such, they cost quite a bit.
A cheerleading uniform costs about $100. At the same time, its accessories such as bloomers, bows, pom-poms, and make-up consist of $100 up to $200. Meanwhile, warm-up gear such as pants and jackets costs up to $150.
Cheer uniforms form a significant role in the sport. But, schools often do not let cheerleaders keep their cheer uniforms. However, it represents the team and their team spirit. This is because the school keeps the uniform and shares it for everyday use in the school.
Though, some schools do allow their graduating batch to keep their cheer uniforms. But for varsity cheerleaders, one's cheer uniform is one's own, so those cheer uniforms will stay with you for sure.
Although they are more costly, you can keep your cheer uniforms with you. You can treat it as a remembrance of your experience and even a token of love.
Public schools often keep and reuse cheer uniforms for the next batch. This is to cut costs since cheer uniforms are expensive pieces of clothing. This is one of the reasons why cheerleaders also take extra miles to wear and take care of their uniforms.
What can you do with old cheer bows?
A cheering bow is a fantastic way to finish off a cheerleader's outfit. Cheer bows come in various styles. These include sequin bows, chevron hair bows, and even zebra bows. Cheer bows are excellent for the sidelines or the competition mat.
A cheering hair bow is one of the most recognizable cheerleading gears. It is part of your cheerleading attire, as well as your team's spirit. Your entire experience would be incomplete without it!
Classic cheer bows are great for events. At the same time, performance cheer hair bows are the genuine deal.
Almost every cheer team wears cheer bows. At the same time, most groups prefer all the girls to have the same bow and matching hairstyles for the perfect look. Dance squads, like cheerleaders, wear matching bows.
You can transform your old cheering bows into a one-of-a-kind piece of art or fashion. This way, you can keep, present to a coach or teammate, or donate to your team to sell for fundraising purposes. The majority of cheer bows unravel.
You can cut and remove the middle piece of ribbon. Next, you should be able to unwrap and separate the layers of ribbon from recycling them! Make a personal statement by sewing the ribbon onto a purse or bag.
To make a heart-shaped wall décor piece stand out, wrap the ribbon around it. Use the ribbon as a bookmark by attaching it to a piece of cardboard. You can even write your initials or team name on the ribbon with colorful adhesive. To complete the entire look, tie the ribbon to the top of a team ornament.
You'll have the most unusual wreath on the block if you tie all the bows on a wreath frame. Make a piece of art out of strips from all your different ribbons!
Glue ribbons to a piece of cardboard with a glue gun, then place in a frame. Mix vertical and horizontal ribbon layout, or put one ribbon across several others.
You can even make your personalized prom corsage by reusing your old cheer bow. Wrap your ribbons around a small floral arrangement. You can buy everything at the craft store. Use the ribbon as a hanger for pictures and other artwork.
You can use your old scrap cheer bow to embellish your school yearbook. You can also use it on photo albums during cheerleading season or photo books for your friends. Attach your ribbon to a headband with a glue gun. Make a patchwork quilt with your ribbon scraps.
Include your old cheer bows in other designs, or use them as an edge liner! You may also use your old uniforms and other clothing to make the patchwork! Make a keyring or key charm out of an old ribbon. Add your ribbon to a lampshade's top or bottom ring or the sides.
Can you put cheer shoes in the washing machine?
One of the most crucial components of each cheerleader's uniform is their cheer shoes. A cheerleader often jumps, does tumbles, and stunts on the floor. As such, it's critical that their shoes can allow for athletic movement. With comfort to the cheerleader and protect the ankle and foot, being also as important.
Cheerleaders should take extra care of their cheer shoes. You can do this by wearing them so that they can last longer.
Washing your cheer shoes in the washing machine and the dryer is not a good idea. While it may be acceptable to wash specific shoes in the washing machine, it is dangerous. You never know how a shoe will fare in the washing machine.
Use as few chemicals as possible on your shoes. If your boots need cleaning, start with a few products as possible. It would be best to tone it down, especially when using bleach or other comparable products. On your shoes, you should use only water and soap.
Your shoes may shrink in the dryer, making them unfit for your feet. Always hand-wash your shoes if they become soiled. If you're concerned about odor, try putting some foot powder in the shoes and then letting them sit overnight to absorb the powder completely.
It would help if you never wiped your shoes with colored towels. If you rub your shoe too hard, the color of the cloth can stain it. Some fabrics bleed, particularly bright-colored fabrics. Always clean your shoe using a white material or towel if needed.
Cheerleaders should only wear their cheer shoes at practice and during performances. This implies that you shouldn't even use your shoes outside of training, even if you're walking from your car to the gym.
Wear regular shoes, then change into your cheer shoes shortly. Even outdoor cheer shoes aren't meant to resist harsh surfaces like gravel or concrete. Limiting the length of time you wear your shoes will help them last longer.
Additionally, Don't glue the bottom sole of your shoe if it's starting to split from the rest of the shoe. While this may work as a momentary fix, it's not a good idea to applaud in torn-up shoes.
It also can injure you and fall apart in the middle of a performance. It's time to change your shoes once they begin to show symptoms of wear.
Is cheerleading an American thing?
Cheerleading started in the United States. There is an estimate of 3.85 million cheerleaders in the United States as of 2017.
In American culture, cheerleading reflects both positive and negative qualities. Cheerleading is an essential part of American culture. This is because of the positive values it promotes.
Cheerleading started during a game of American football in New Jersey. Rutgers University and Princeton University played the first college game in 1869. And by the 1880s, Princeton had organized an all-male pep club.
Thomas Peebles, a Princeton graduate, brought the Princeton cheers to another university. This is where football and fight songs started gaining traction.
In 1898, while the University of Minnesota was on a losing streak, Johnny Campbell put together a group to energize the squad and the spectators. Since then, cheerleading has spread all over the country.
Cheerleading is almost an American sport. Cheerleading is well-known in other countries thanks to American films. These included television features, but few have seen them in person. For the time being, it's part of what sets sporting events apart in the United States.
Cheerleading grew since the year 1898. Yet, women were not allowed to cheer for the first time at the University of Minnesota until 1923. Cheerleaders began to incorporate tumbling and acrobatics into their routines during this decade. Soon, a University of Oregon cheerleader using flashcards for the first time.
Women began to join teams in the 1920s. But it wasn't until the 1940s that they did so in significant numbers. This was due to the enormous number of college-aged men fighting in World War II.
All-Star cheerleading began in the late 1980s. And during the 1990s, it spread in popularity—school-based cheerleading, which included leadership and spirit elements. Meanwhile, All-Star cheerleading focused on athletic training and competition performances.
Many companies now provide both academic and All-Star cheerleading, with some focusing on All-Star cheering.
College cheerleaders attempt the most challenging stunts that are permissible in the sport. Even at its most excellent level, All-Star cheer is not as hard as collegiate cheerleading.
Cheerleaders serve as ambassadors for their schools and communities. They serve as a powerful marketing tool for the athletic programs they fund. They also foster the communal spirit we refer to as "school spirit."
They are tomorrow's leaders. They will be crucial members of the community in the future. This is due to their development of physical skills, leadership, and teamwork. Become a leader by becoming a cheerleader.