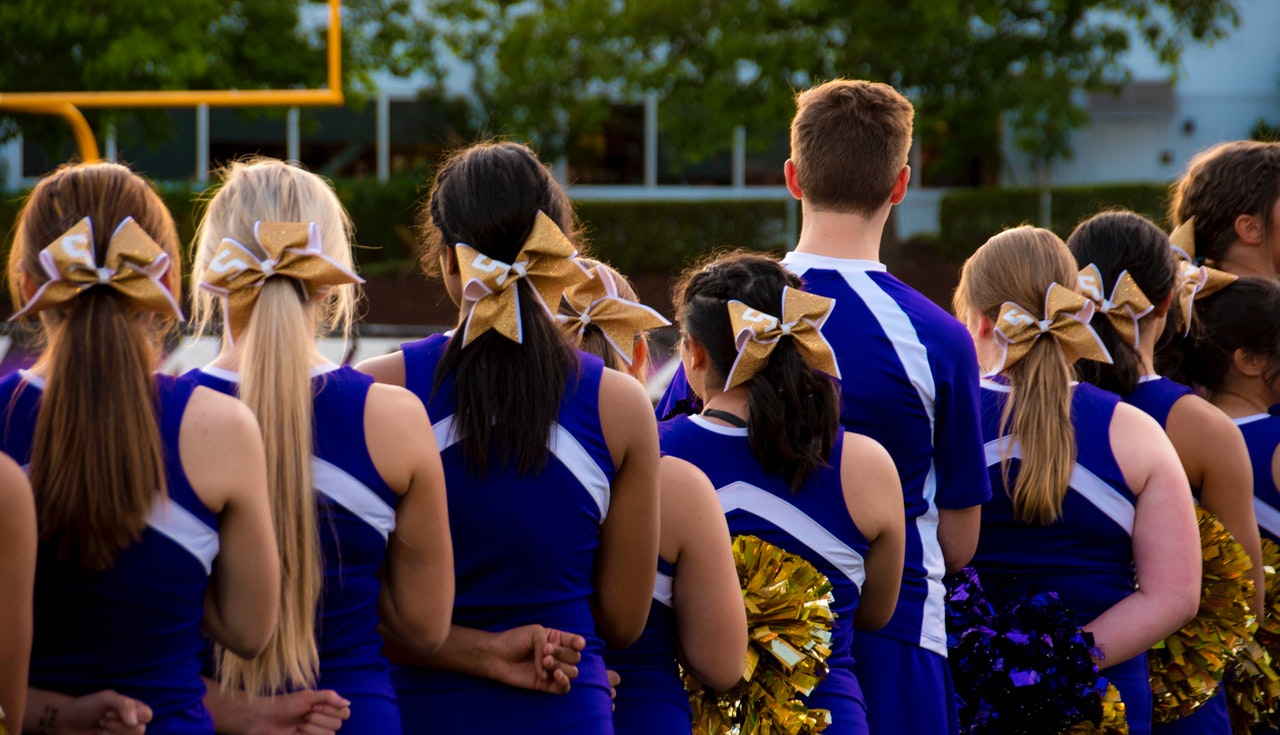 Cheerleading tryouts are one of the most anticipated events for most cheerleaders. It is the big day to show off skills, climb to the top of the pyramid while wearing the widest smiles. It is both an exciting and stressful experience for seasoned and beginner cheerleaders.
The tryouts are the best opportunity to be part of the team you have been dreaming of since the day you practice. It is the reason why you spend long hours practicing, improving your flexibility and getting in shape. It is the ultimate motive why you even started cheerleading.
Tryouts are enormous for every cheerleader. So, it is equally important to make a lasting impression. You would deliberately enhance your routine, perfect your movements, and prepare your voice. You can practice just in front of the mirror to see how flawless and impactful your moves will be.
Yet, more than a good impression about how you execute your moves, appearance also matters. The way you look will undoubtedly reflect your character as a cheerleader. It is the first thing to be noticed about you upon tryouts.
It is vital to know what you should wear for cheerleading tryouts. Aside from planning the routine, thinking about your tryout outfit is just as crucial. You should wear something that gives you the freedom to move and do your routine seamlessly.
Thus, we came up with an ultimate guide to help you pick out the best outfit for tryouts. Read on as we detail the most essentials things to consider when choosing your cheer outfit.
What are cheerleader tryouts?
Cheerleading tryouts are highly awaited events for a cheerleader. It is the time where coaches and squad captains look for potential new members of the team. They will ask you to demonstrate your skills, dance, and acrobatics to determine if you are the right fit.
Here are the basic things that you should know when attending a cheerleader tryout:
Who

Upon entering the gym, you will see the faces of coaches and squad captains manning the tryouts. There are assistant coaches, athletic directors,s and members of the cheerleading squad. These people are looking for new talents to ask to become additional members of the team.

What

Cheerleading tryout is a busy day for coaches and captains. They are searching for potential talents who can fill the vacant spot in the cheer group. Interested individuals sign up for tryouts to showcase the best of their abilities. They will display their impressive acrobatic moves, dance, cheer, and other skillsets. You should also perform some basic cheer moves like jumps, stunts, and tumbling.

When

The cheerleading committee, sports director, or coach usually schedules the tryout. The activity often takes place after school or in the evening. It also depends on the availability of the judges.

Where

Most school cheerleading tryouts happen within the school vicinity. It is usually conducted in a gym, auditorium, or school field.

Why

Tryouts are essential because it is the way of screening potential members of the squad. Coaches will look for the best talent to fill even one team spot. It is also a way to recruit new members. Even returning members anticipate the next cheerleading tryouts.
How do you stand out at cheer tryouts?
You will stand out at cheer tryouts if you can display such immense talent and abilities. Cheerleading tryouts are all about techniques, skillsets, appearance, and talent. Coaches will take notice if you possess all of these.
Here are the things to consider for you to stand out during cheerleading tryouts:
Talent and techniques

The critical thing coaches will look for is the talent and ability of an individual. Even if you are a beginner cheerleader, coaches can see if you have the potential talent and fit the team. They will also take notice of your skill level and how far you can go in cheer.

Thus, you must audition with all your might and impress them ultimately. Showcase all the powerful moves that you have, including the following:
Voice – your voice matter in cheerleading. You have to exhibit a deep, loud voice when making your cheer. Do not yell from your throat, and make the words audible and clear. It is also vital to enunciate.
Facials – cheerleading is all about smiles and facials. It is a way of communicating with the audience. Your facials are essential to show your confidence and talent, as well.
Motions – the perfect execution of the movements is a plus point for you. Every cheerleading movement has a specific position for the arms and the feet. Ensure that you are always in the proper position when making the moves. It also essential to execute them flawlessly and cleanly.
Dance – dancing skills are also stopping considerations during tryouts. If you have excellent dancing moves, it will give you a competitive edge. Make sure that you display this aspect of your personality to impress the coach and captains.
Stunts, jumps, tumbles – no one can be part of the team without know these powerful moves. It is essential to practice all three of these before going to a tryout. Some members of the squad will show you the right moves, which you can mimic. You have to do these movements with confidence, especially for beginners.
Sharpness
Aside from being skilled and talented, sharpness is a crucial factor. Sharpness corresponds to how impactful and flawless your movements are. This aspect will show off upon executing such powerful moves. It will also be improved and polished as you progress in cheerleading.
Enthusiasm
Make yourself stand out with the level of enthusiasm you have. Enthusiasm is also a determining factor in why you get in the squad. Exhibit a cheerful disposition, especially during tryouts. Some coaches include in the score sheet the level of enthusiasm you display.
Confidence
Coaches will take notice of you if you display confidence. It is one crucial most coaches look for in tryouts. Even if you are executing difficult stunts, confidence should always come out. Most of the time, confidence comes with a smile along with arm movement and stunts.
What color should I wear to tryouts?
You should wear your school theme color during tryouts. Bright and powerful colors also help you to stand out in the event. It is essential to wear comfortable outfits without restraining your movements.
Here is a guide that would help you choose the best outfit for cheerleading tryouts:
Clothes and attire

Make sure of the protocols set by the tryout committee about specific tryout outfits. If there is none, it is safe to follow the school colors for your attire. Always bring a practice short and form-fitting tank top, as well.

Here are the things that matter when picking up your outfit:
Short skirt – you can wear a short skirt similar to cheerleading uniforms. Make sure that you wear undergarments with the skirt, so you won't get distracted when jumping. You have to option to wear bike shorts underneath the skirt.
Skort – another option to wear is the skort. It is a piece of garment that combines a skirt and a short. It looks like a skirt on the outside, while a pair of shorts from the inside. Wearing a skort will also prevent your underwear from showing while doing a routine. A skort is also one of the most comfortable tryout outfits to wear. It provides you enough freedom to do your stunts and jumps while still making you comfy.
Shirt – tight-fitting shirts are recommended, as well. You can pick a tank top where you can freely move your arms and shoulders. Wear something made of spandex material that can be stretched during movement. Remember not to wear baggy shirts as it will surely make a wrong impression.
Shoes – you should also wear comfortable white shoes made explicitly for cheering. It will help you conduct your moves and routine seamlessly. You can also wear athletic shoes that are comfortable and clean. Lightweight shoes are also ideal for cheerleading. It won't add weight making your basic footwork moves easy. Make sure to choose white color for your footwear, too.
Sports bra – sometimes, your chest will get in the way while you execute the moves. A sports bar can help you feel more comfortable and appropriately dressed. Wearing a sports bra can also work its magic. You must be comfortable, and the clothes you wear do not restrict your moves.
Hair
Hair is also a part of your overall cheerleading tryout appearance. You should wear it like how cheerleaders wear their hair – in ponytails. Make sure to pull your hair back and away from your face so the judges can see your facials. You can either use braids, ponytails, and half pony.
Ensure that your hair will not be abler fall mainly during the audition. It will look sluggish and messy that can cause deduction to your score. This can distract the judges, as well.
Makeup
To brighten up and add color to your face, you can wear makeup in tryouts. Always opt for a natural and glow look when doing your makeup. Do not overdo your face, as it will distract the judges and might deduct points from you.
In doing the makeup, you can concentrate on your eyes, lips, and cheeks. Make sure that your eyes will brighten up and the cheeks have enough blush. A simple lip gloss will also do.
Always bring concealer and powder for a mini touch-up before your set. It is essential always to look ready, and great makeup will always do the trick.
Accessories
Pom poms and cheer bows are the only ones you need for tryouts. You can level up your hairstyle by decorating it with a cheer bow. You can pick a bow with the same theme color of your school to add to the varsity school spirit.
Never forget to bring pom poms when you try out. It is crucial as it will add glamour to your routine. Pick a color that is bubbly and vibrant, too.
Jewelry
Never wear any form of jewelry on tryouts. Remove them if you are wearing one. Cheerleaders are not supposed to wear jewelry as it can be a cause of mini injury. It will help if you abode by these rules so you can avoid giving a wrong impression.
Cheerleading tryouts are not just a typical day for potential cheerleaders. For them, it is a huge event that they always anticipate during the calendar year. As massive and significant as it is, your outfit should be well chosen, too!
May this guide help you pick the best cheerleading outfit for your next tryout. We hope that you were able to understand more about what to expect in tryouts. In this way, you are better prepared and have more confidence when tryout comes.