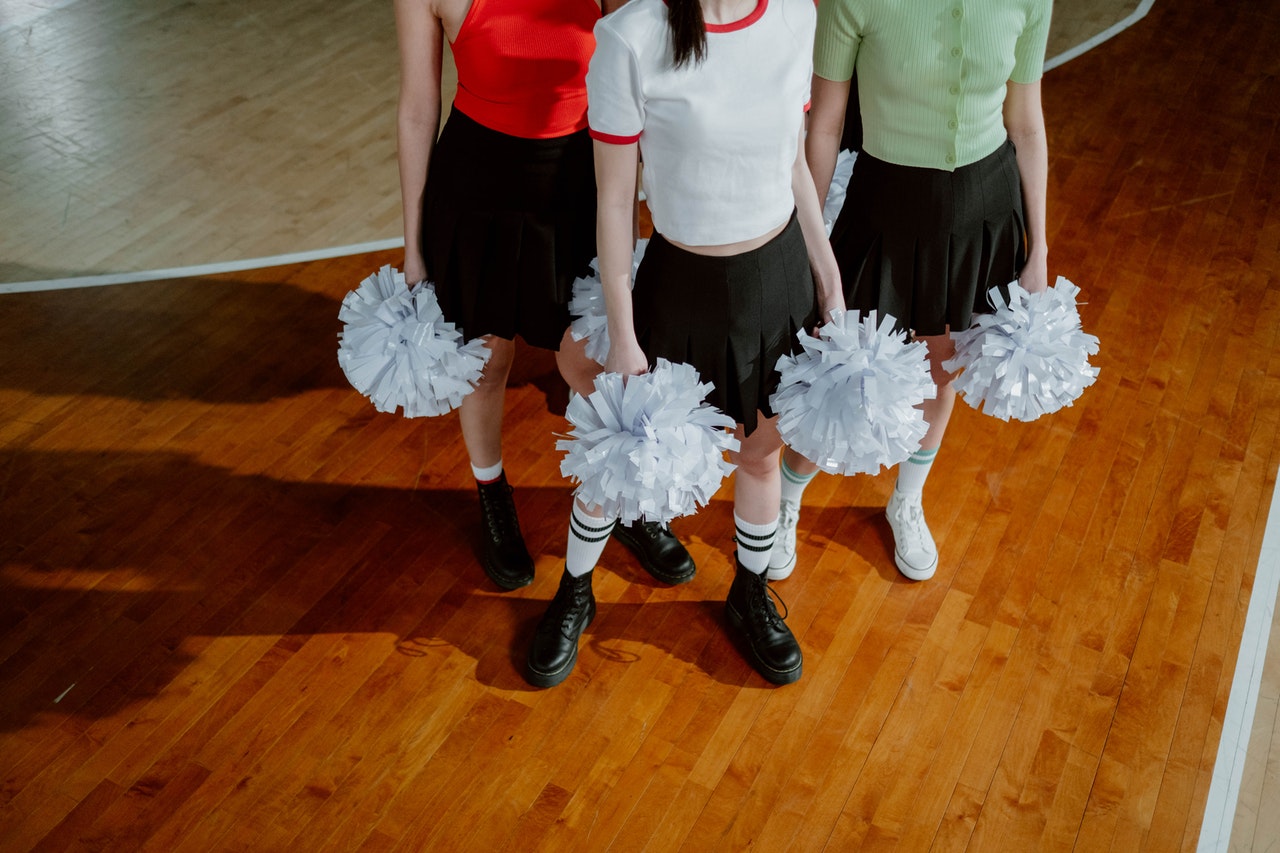 The Dallas Cowboy cheerleaders are one of the most famous fan favorites of football fans. They became a national sensation on a Monday night in 1975 at Texas Stadium.
The Cowboys hosted the Kansas City Chiefs in a nationally televised game. That's where the Dallas Cowboy cheerleaders caught the cameras and the audience's eyes.
ABC's director at the time told his camera crew to focus on the cheerleaders. Throughout the game, the cameras followed one cheerleader, and then she noticed. She then responded by posing, flirting, and winking at the camera.
It was the squad's defining moment before skyrocketing to fame.
After that famous wink, the DC Cheerleaders started featuring on posters and television. In 1979, they got their made-for-TV movie: The Dallas Cowboys Cheerleaders.
In 2006, they got a reality TV series: Dallas Cowboys Cheerleaders: Making the Team. The show is still ongoing and airs during NFL season.
DC's general manager Tex Schramm's original idea was to bring in a group of co-ed cheerleaders to the game. That idea flopped. It wasn't until 1967 that he figured out what he needed to succeed. He needed an all-female cheerleading squad in skimpy uniforms.
The Dallas Cowboy cheerleading squad continues to grow in popularity. For years, they are regulars on calendars and entertaining US troops around the world. The United Service Organizations (USO) loves having the Dallas Cowboys cheerleaders on tour.
Who is the most famous Dallas Cowboy cheerleader?
Throughout the years, many former Dallas Cowboy Cheerleaders achieved fame and success. The most famous ones include:
Tina Hernandez (1977–78) – actress, CHiPs TV Series (1982–1983)
Janet Fulkerson (1980–82) – actress
Judy Trammell (1980–84) – Dallas Cowboys Cheerleaders' current choreographer
Sheri Scholz (1985) – Miss Texas Teen USA 1983
Lee F. Jackson (the CowBelles & Beaux era) – Dallas County judge. Jackson served in the Texas House of Representatives from 1976 to 1986.
Jenni Croft (2002–05) – runner-up on The Bachelor (Season 11). Former Miami Heat cheerleader
Dianna De La Graza, mother of Demi Lovato
After being part of the DCC, a lot of the former squad members found success.
Being part of a nationwide famous cheerleading squad opened a lot of doors. The Dallas Cowboys cheerleaders grabbed their chances to fame.
Other famous former Dallas Cowboy cheerleaders:
Erica Kiehl Jenkins (2007–09) – singer, member of The Pussycat Dolls
Bonnie-Jill Laflin (1996–97) – actress/model. Laflin is a sportscaster and scout for the Los Angeles Lakers.
Micaela Johnson (2003–05) – Miss Nebraska USA 2008
Starr Spangler (2005–08) – winner of The Amazing Race 13
Melissa Rycroft (2006–08) – winner on ABC's Dancing with the Stars. She currently appears on Dallas Cowboys Cheerleaders: Making the Team. Rycroft is a consultant and advisor for DCC candidates.
Lezlie Deane – actress, founder of techno group Fem2fem
Kristin Holt (2000–01) – TV personality. Holt's also an entertainment news correspondent.
Most of the former Dallas Cowboys cheerleaders (DCC) dabbled in show business. Several DCC members are acting, singing, and modeling. Others are into business and arts.
How much do Dallas Cowboy cheerleaders make in a year?
How much Dallas Cowboy cheerleaders make depends on the number of appearances. Based on their 2020 salaries, they make around $75,000 per year.
You would think that NFL cheerleaders are taking heaps of money home. That's not the case. Despite being part of multi-million teams, NFL cheerleaders are underpaid.
Back in the day, professional cheerleaders earned below minimum wage. After grueling days of training and performing, NFL cheerleaders only get $5 per hour. A huge gap from what NFL waterboys and mascots get.
In 2014, issues arose about the NFL cheerleaders' bargain salary. Cheerleaders Oakland Raiders filed a lawsuit, changing everything. The rates went up from $5 per hour to $15 per hour.
Still, the rates are different between professional and supporting NFL cheerleaders. Professional NFL cheerleaders with contracts start from $15-$20 per hour. Supporting NFL cheerleaders who are team fillers get paid $5-$9 per hour.
Their rates also vary depending on their NFL teams. And their pay can rise if their team makes the playoffs. Here's a list of the highest-paid NFL cheerleaders in 2020:
| | | | |
| --- | --- | --- | --- |
| NFL Team | Rate per hour | Rate per game | Yearly earnings |
| Arizona Cardinals Cheerleaders | $15 – $20 | $500 | $75,000 |
| Atlanta Falcons Cheerleaders | $15 – $20 | $500 | $75,000 |
| Baltimore Ravens Cheerleaders | $15 – $20 | $500 | $75,000 |
| Buffalo Jills | $15 – $20 | $500 | $75,000 |
| Carolina Topcats | $15 – $20 | $500 | $75,000 |
| Chicago Honey Bears | $15 – $20 | $500 | $75,000 |
| Cincinnati Ben–Gals | $15 – $20 | $500 | $75,000 |
| Dallas Cowboys Cheerleaders | $15 – $20 | $500 | $75,000 |
| Denver Broncos Cheerleaders | $15 – $20 | $500 | $75,000 |
| Detroit Lions Cheerleaders | $15 – $20 | $500 | $75,000 |
Now, do you find professional cheerleading appealing? Take a look at how to be part of the Dallas Cowboys cheerleaders below.
How do you become a Dallas Cowboy cheerleader?
The requirements to be a Dallas Cowboy cheerleader are:
Must be at least 18 years of age at the time of preliminary auditions
Must be a high school graduate or have a GED
You must be able to attend all rehearsals and other related activities
For International Applicants: Please get the proper visa from the embassy. Keep in mind an extended timeline should you get selected
Provide proof of eligibility to work in the USA
Those are only the basic requirements. To become a Dallas Cowboy cheerleader, you have to go through several steps:
Written Exam
Surprise! DCC is not like any other cheerleading gig.
Applicants need to take an 80-item test as a start. The exam covers the Dallas Cowboy cheerleaders and the history of the Dallas cowboys. Plus nutrition and current events.
Panel Interview
After the exam, DCC applicants sit through a panel of judges. The judges ask rapid-fire questions about current events, the Cowboys, DCC, and NFL. The panel interview is a make-or-break moment for DCC hopefuls.
As DCC represents the team and goes on a world tour with USO, members must be knowledgeable. So, being a good dancer is not enough to join DCC. You must also be able to communicate well.
Contest Rounds
All DCC hopefuls have to go through 3 grueling rounds of auditions. To get to the next step, you must pass the prelims, semi-finals, and finals. You'll go head to head with hundreds of new applicants plus returning DCC veterans.
That's right! Returning DCC veterans also have to audition. Although they skip through the first two rounds, you'll meet them in the finals. That makes the finals exciting for the audience but more challenging for applicants.
DCC Summer Training Camp
Making it through auditions is only the beginning! You're not officially part of DCC yet. You'll be joining a 10-week DCC Summer Training Camp.
From hundreds of auditionees, only 43-46 get invited to the training camp. Then only 36 make the DCC squad by the end of summer. The elimination is similar to trying out for the Dallas Cowboys roster.
But the DCC training camp is longer. The players' training camp is only for 3 weeks. Cheerleaders have to train for 10 weeks. Some even say it's harder to get into the DCC than become a Cowboys player.
During the tryout process, you will be subject to background and social media checks. You will also get training on interviewing and etiquette. These will be useful in your career as a Dallas Cowboy cheerleader.
As one of the most iconic NFL cheerleaders, DCC gets hundreds of auditionees every year. The AT&T Stadium gets filled with women from all over the world in hopes of making the team. You name it! There are college graduates, Laker Girls, legacies, dentists, former military service members.
Aside from becoming a pro cheerleader, being part of DCC comes with many perks like:
Performing at the AT&T Stadium
Performing on national television
Travel for calendar shoots
Going on USO world tours for the US military troops
Receiving extensive dance training
Sharing your talents and knowledge to DCC kids camp
Another fun part of auditioning for the Dallas Cowboy cheerleaders? There's no age, weight, or gender requirement! But, you have to be in good shape to do the routines and look good in the uniform.
Is being a cheerleader worth it?
Cheerleading is more than just dancing and cute uniforms. Cheerleading is a major commitment that requires your time and dedication. It's fun and challenging, but anyone who has ever been a cheerleader can say that it's worth it.
Cheerleading has a lot of benefits. It keeps you fit, helps you make great friends, and gives you discipline. But, it's not for everyone.
If you plan on becoming a cheerleader because you think it's easy, think again. Cheerleading requires your time, dedication, and hard work. Here are a few things that go hand in hand with cheerleading:
Time commitment
If you plan to be a cheerleader, you better be ready for long hours of rehearsals and training. Cheerleaders have to spend hours practicing routines for the performance. You also have to be available for fundraising, pep rallies, and competitions.
You have to know that cheerleading is a time-consuming sport. It applies to both student and professional cheerleaders. Hours spent traveling and practicing take away some family and recreational time.
But if you love the sport and enjoy what you do, time spent cheerleading should be so much fun.
Strong work ethic
Cheerleading is a team sport. That means you will always be working with a group, and you become one with them. You should be able to compromise and blend well with other squad members.
It's not going to be smooth sailing all the time. You will encounter problems, but you should be able to resolve them. Cheerleading is just as mentally challenging as it is physically.
Set a good example
Cheerleaders are role models. Peers, fans, and children who dream of being cheerleaders one day look up to you. You should set a good example to the masses and maintain a good image.
It can be quite hard to live up to their expectations, but it comes with the job. If you want to be a cheerleader, expect to have people's eyes on you.
Cheerleading is a fulfilling sport. Many athletes gain the confidence and the drive to work hard through cheerleading. Though it may be challenging, for a lot of cheerleaders, it's all worth it.